Galaxy Cookies that are Out of this World!
If you've been on social media at all in the last oh, year or so, I'm sure you've seen some sort of fun galaxy decorated dessert. They're all over the place! With good reason, they're so cool! I've been dying to try it out and decided there's no better time to try new things than the beginning of the year! I took a few short cuts and made these galaxy cookies pretty quickly. They were done before the kids got home, which was good because they made a great after school snack!
One of the short cuts I used was pre-made sugar cookie dough! Easy peasy. I love Pillsbury cookie dough. It's easy to use and really inexpensive at the commissary. You can use you favorite cookie recipe if you want!
Since the icing is really the start of the show, I kept the cookies simple. I was inspired by SugarSpunRun for the recipe for the icing. I divided the recipe because I didn't need as much it called for. Side note, the recipe is really easy to double! 😉
Galaxy Icing
1 1/2 cups powdered sugar sifted. I used a small strainer to shake the sugar through
2 tablespoons light corn syrup
2-3 tablespoons milk or half & half
Whisk that together completely. If it's stiff, add another tablespoon of milk to get a thick and shiny texture. Next add:
1/4 teaspoon vanilla extract
1/4 teaspoon almond extract (this can actually be any flavor, such as mint, coconut, or even butter extract)
Mix thoroughly.
For this icing recipe, gel food colors are the best. I bought a box at my local Walmart, but they can be found in almost any grocery store baking aisle. I chose to use pink, purple, and blue! I also had some silver sprinkles on hand after the cookies have been glazed. Use a toothpick to swirl the colors a bit, but not too much.
Dunk the top of the cookie in into the icing and give it a little swirl when pulling it out. There's no right or wrong way to do it, really. You can let some of the excess icing drip off and then set them on a wire rack. More icing will drip off so I put some wax paper underneath the rack to keep the mess contained!
When the colors started to get too blended, I just added a few more squirts of color to the top. It worked so great!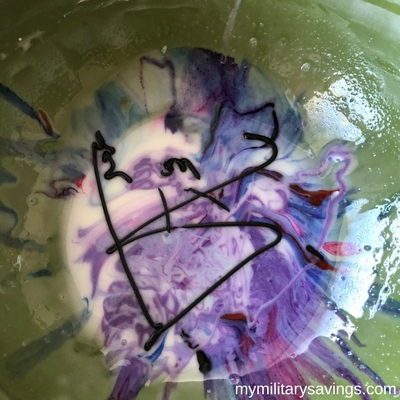 I did 3-4 cookies at time and then stopped to add the silver sprinkles. These are completely optional, but I love how they match the galaxy designs on each cookie! I also LOVE how each cookie came out completely different! It was so much fun!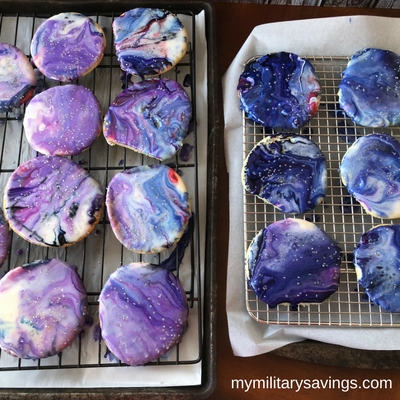 These cookies are a BLAST to make and would be great for any space loving kid or science lesson!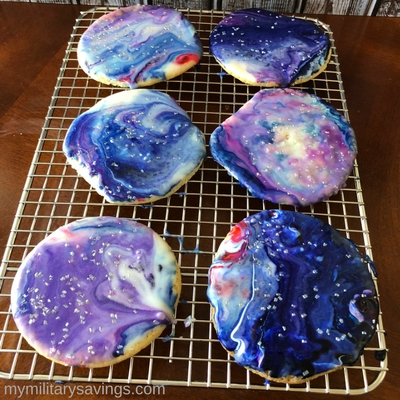 Head on over to mymilitarysavings.com for more great recipes! Membership is free so be sure to sign up today!