Gentleman Jack Mint Julep
Happy Weekend! This has been one of the longest months ever! I sent my kids to their grandparents, thinking that I would get so many things done while they were gone. I should have known that I was kidding myself! I got NOTHING accomplished that I set out to do!
The ONE thing that I did get was rest. I took some serious downtime, and just a little mental health recoup. I am sure my couch will forever contain an indentation of my body from these past two weeks. As I was working on relaxation, and channel surfing, I came across a Jack Daniel's recipe that looked delicious, from the Jack Daniel's UK website. So I pulled my hair into a messy bun, and headed to the Class Six (no judgement zone, right?).
Let me tell you, this is one my favorite drink mixes! I have this printed, pasted, and posted this to the front of my fridge. I cannot wait to share this with friends when they come over for the next BBQ in the backyard. Super easy to make, and of course, Jack Daniels,  the king of whisky never lets you down with the smooth and savory taste! Try this delicious mix today!
Head over to your Class Six today and see what amazing deals Jack Daniel's has to offer!
Give this classic Kentucky cocktail a double smooth Tennessee twist with double mellowed Gentleman Jack.
INGREDIENTS:
– 50ml Jack Daniel's Gentleman Jack
– 2 Dashes Angostura Bitters ®
– 12-14 Fresh Mint Leaves
– 25ml Sugar Syrup
– Crushed Ice
DIRECTIONS:
GARNISH: Fresh mint leaves
GLASS: Tumbler
METHOD: Build ingredients in glass, add crushed ice and churn through with stirrer for 12-15 seconds. Avoid damaging the leaves, keeping the fresh mint flavor intact. Garnish with sprig of mint in the corner of the glass.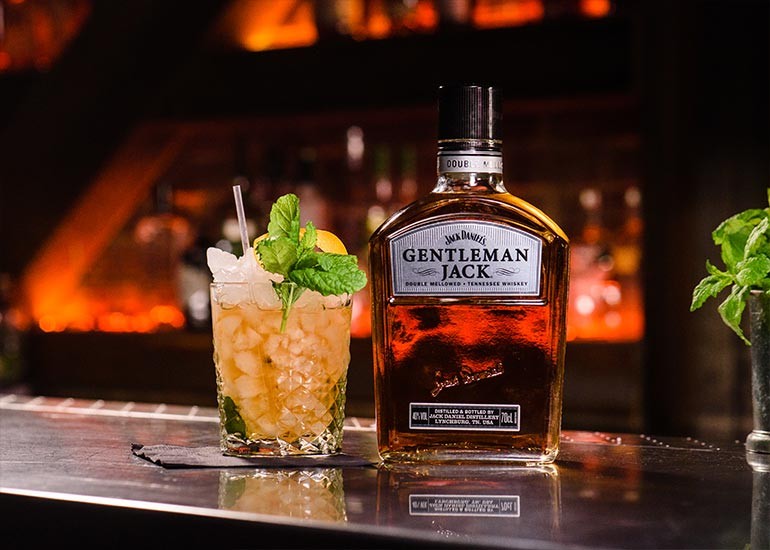 **Please drink responsibly! We value your safety and wish you many more happy evenings with family, friends, and loved ones. Persons under the age of 21 should not purchase or consume alcoholic beverages of any kind. If you consume alcohol and are considering driving, please call a Designated Driver or a cab to take you home! Live to drink another day!**