Hey y'all! I hope everyone is enjoying the beginnings of summer time. Hopefully your kids are out of school (or will be soon) and you've eased into the slowness of long days outside and spending quality time with your families. I know we have been extra lazy these last few weeks and it's JUST what the doctor ordered! Dinners around here have been on the simple side and as much grilling outdoors as possible. It's just too nice outside not to! This week, the kids joined in on the fun and tried out some build-your-own-pizzas ON THE GRILL! It was SO much fun. And for dessert? Well, let's just say these campfire cones are our new favorite thing EVER! 🙂
I think everyone has their favorite pizza toppings and gravitates toward those every time. The same goes for making homemade pizzas! I LOVE pepperoni and mushrooms on my pizza. I'll order it every single time. My boys like the Hawaiian style with ham and pineapple. Easy peasy! You have a few options for the crust. You can absolutely use your favorite recipe for homemade crust. I have a good one, but I swear I always forget how much time it takes to let the dough rise! Lately, I've been buying a bag of ready-to-use dough from the grocery store and guys, it's under $1 a piece! You can't beat that! To make things even easier, use a pre-made crust that you just need to heat up.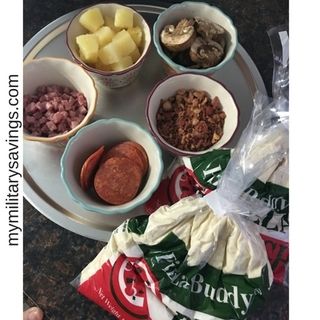 Gather all your toppings, sauces, and shredded cheese. We used our favorite BBQ sauce for the Hawaiian pizza and ya'll, if you haven't tried it, you're missing out! So much fun! I used a canned roasted garlic tomato sauce for the pepperoni pizza. Stretch out your dough (you can use a little corn meal if it's sticky) and place it on a preheated grill. I let them cook for about 5-7 minutes on medium low heat.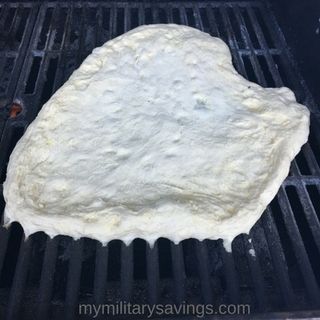 Flip them over, add your sauces and then your toppings. Let them cook about 4 minutes, then add your shredded cheese. Cook another few minutes and then take them off the grill.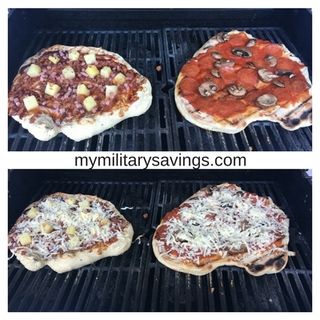 Look at these beauties! Okay, they're not perfectly round, but the char from the grill added such a great flavor. They were delicious!!
Pepperoni and mushroom is my life! Ha ha! Of course, if you want to skip out on the grilling, you can throw these babies in the oven.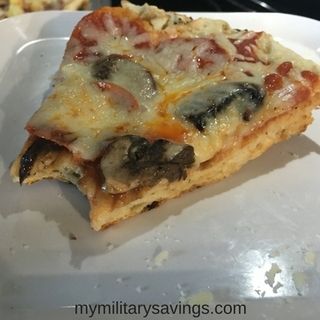 Since we had the kids helping in the kitchen already, we went ahead and made a toppings bar for our Campfire Cones. Guys. These are SO GOOD. You basically fill an ice cream cone with your favorite ice cream toppings and let them get all melty over a fire. It's like s'mores on steroids! These would be great for a night around a bonfire, camping with your family, or just a Friday night dessert at home with your favorite people. 🙂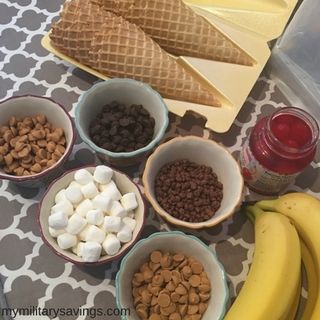 For toppings, I offered chocolate chips, butterscotch chips, marshmallows, bananas, chocolate crunch candies, and peanut butter chips. The boys, of course skipped the fruit and went straight for the candy. I made an AWESOME chocolate, peanut butter, and banana cone. The marshmallow is a nice fluffy filler and holds everything together once it all starts melting. Fill your cones and wrap in aluminum foil. Place on the grill over low heat for 8-10 minutes. You'll start to smell the melty deliciousness and it is awesome!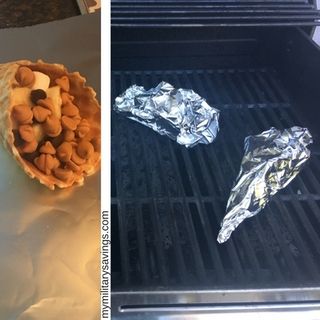 Carefully unwrap the hot cones and dig in! Toasty crunchy sugar cones filled with melty deliciousness. Who needs ice cream? Although, a scoop of ice cream on top would not hurt this bad boy at all! 😉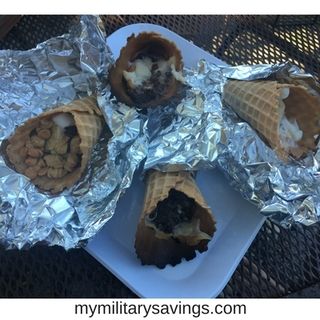 My banana-chocolate-peanut butter cone was SO GOOD. The fresh banana cancels out the calories, right? HA! Next time, I'll be adding crushed cookies or maybe even some mini candy bars. YUM!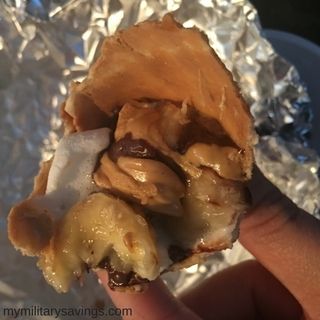 I hope you guys try these cones and put your own twist on them! They are sure to be a crowd pleaser this summer!