RIBS in the Crockpot? Easy!
Are you looking for an easy recipe for your next barbecue? Or maybe you just want to set it up and come home to hearty delicious dinner with minimal effort. Well, I have the recipe for you! BBQ Ribs IN the crockpot! You might think the slow cooker is good for those soups and stews during the cold winter months, but it's also great for when it's too hot to have the oven on all day! This recipe is super easy, feeds a crowd, and is really delicious. Check it out!
BBQ Ribs in the Crockpot:
1 rack of spare ribs (4-6 lbs)
2 cups of your favorite BBQ sauce
2 tablespoons Worcestershire sauce
2 teaspoons of liquid smoke
4 cloves minced garlic
Salt and pepper both sides of your ribs and then cut into 3 sections to fit in the Crockpot. Whisk the BBQ sauce with the Worcestershire, liquid smoke, and garlic. This just amps up the store bought sauce. Spoon some sauce on each side of each section and brush it on. Refrain from putting the brush in the sauce so you don't contaminate the sauce with raw meat.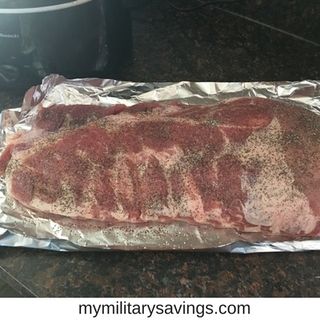 Place the saucy ribs in the crockpot and cook on low for 8-9 hours. No heating up the kitchen  or manning a hot grill for hours. Set it and forget it!
When they're ready, take them out and add more BBQ sauce. At this point you can throw them on the grill or in the oven for 10 minutes to crisp them up and get them good and sticky. 😉 I put them under the broiler and kept an eye on them. I think it took 7 minutes. Easy dinner DONE!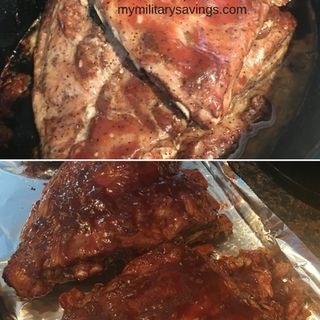 These ribs are tender, sticky, and delicious. Perfect for your next BBQ or just a summer dinner with the family! Serve them with your favorite salad and corn on the cob. YUM! Try them in your slow cooker today!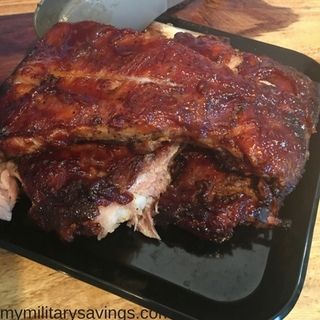 Happy Summer Eating!