Hello, young readers! Are you enjoying the snow days? Being out of school can be fun, but after a while, it's hard to find something to do. Let's grab a book! There are some fun adventures just waiting for you! Ask your parents to take you to the library. We love to spend time at the library each week. We usually come home with many more books than we intend to. But, it helps to keep the winter blues at bay.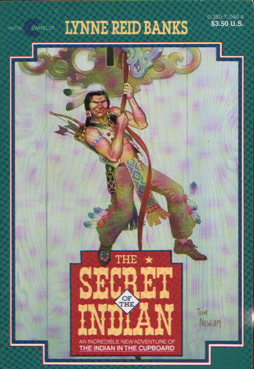 Right now, we are reading the mystery of the "Tower Treasure" by Frank Dixon. Those Hardy Boys sure can unravel the clues that have been left! With March approaching, there is another journey just waiting.  We are going to dive into "The Secret Of The Indian" by Lynne Reid Banks. We have taken a few trips with Omri and his friend Patrick already. Their plastic Indian came to life in a magic cupboard, and since then they have had some fun with Little Bear. This new adventure is going to be a little different from their past experiences…
Join us for our Facebook Live Chat on February 25 for the discussion of the Tower Treasure at this link.
Excerpt from goodreads.com:
The adventure deepens . . . In The Return of the Indian, Omri found he could transport himself and his friend Patrick back in history to the dangerous days of his miniature companions. Now, in the secret of the Indian, Patrick time-travels back to the rough-and-tumble frontier age of his cowboy friend, Boone. When he returns to the present day, he's accompanied by a disastrous bit of Texas weather that devastates half of England.
Not a book club member? Head over to www.mymilitarysavings.com and sign up today! Select the box that asks if you'd like to join the MMS Book Club, and you'll get our monthly book club email, too! And, don't forget, we have "live" book club meetings on our Facebook Page, so be sure to "Like" us and follow along so you know when the next one is!