It's time for more fun with nerdy snacks! I don't know about you, but I don't know a single person who hasn't played or at least heard of Super Mario Brothers. It's such a classic! We're big fans of the (many!) Nintendo games so I figured some fun Mario inspired after school snacks would be perfect for my second installment of Nerdy Nibbles. Good luck putting these together without getting the theme song stuck in your head! 😉
These treats are once again super EASY to put together (as you can see, the 5 year old helped quite a bit!) and so much fun to eat! I put a fun twist on a frosted sugar cookie with the Fire Flower fruit pizza! It's simple, delicious, and really easy to make your own!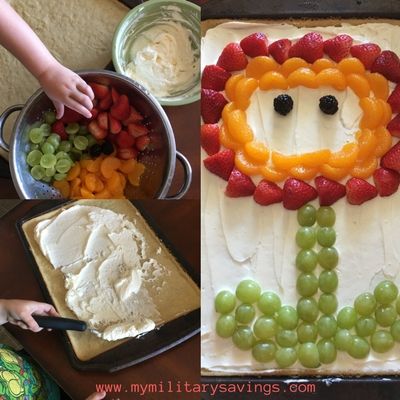 The crust is a sugar cooke base. I used a tube of store bought dough!
The sauce is my favorite fruit dip. Whip together 8 oz of softened cream cheese with 1 cup of marshmallow fluff. It's sweet and tangy! You could also use vanilla yogurt for a healthier option.
The toppings are completely up to you! I chose a fire flower using sliced strawberries, a can of mandarin oranges, sliced green grapes, and blackberries for the eyes. Your options are pretty open here! Some more examples: A green 1Up mushroom made of kiwi and mini marshmallows, a red PowerUp mushroom made of raspberries. Even a blueberry Bob-omb would be, well, the bomb! Do a google search for your favorite Mario images for more inspiration!
Next up, rice krispy treats with a fun twist! Aren't my guys the cutest? They know if they're patient for pictures, they'll get rewarded with eating! Ha ha!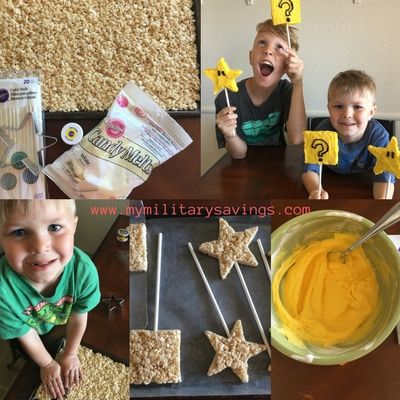 Start with a pan of cooled rice krispy treats. I looked EVERYWHERE for the pre-made sheet, but alas, it was nowhere to be found and I had to make them homemade. It was so hard not to eat the warm mixture with a spoon, but I managed. Whew!
At my local craft store, I picked up lollipop sticks and candy melts. Do they sell yellow candy melts? Yes! Was my store sold out? Of course! I used white candy melts & yellow food coloring. I thought I could just dip the treats in the melted candy, but it was pretty thick. I ended up freezing the treats on the lollipop sticks and then just frosting them like a cookie with the yellow.
Star cookie cutter for the Mario Super Stars. I told my boys about the idea and the 5 year old says to me, "Mom! You should cut blocks out too and make mystery blocks!" He's a smart little stinker!
Black frosting for the eyes. The same smart little stinker later informs me that the question marks on the blocks are white. After a short disagreement with him and a consultation with the resident expert (my hubby!) it turns out he's right and I'm so wrong! He was okay with the black outline of the question mark. (I'm so outnumbered here!)
Now we can't have a fun after school snack party without a yummy drink. And since I am so outnumbered, I decided to make Princess Peach punch. Without her, after all, there would be no Mario games to play! This 3 ingredient punch is SO YUMMY! You could even get fancy and add a cute straw and those candy peach rings. Adorable.
To get the perfect peach-to-bubbly ratio, I used 1 liter of ginger ale and 4 cans of peach nectar. The frozen peaches worked great as ice cubes. And if we're being perfectly honest, a splash of white wine or rum would be just AMAZING. Congratulations, you beat Bowzer and the after school munchies!