Hey y'all! The holiday season is OFFICIALLY upon us and I don't know about you, but I already have a million things to do! This week's Nerdy Nibbles is more like a little Niblet. 😉 Just a quick and easy dessert to bring to a holiday party or just to surprise your kids! My guys and I are HUGE Minecraft fans. We have been known to spend a Sunday or two with the 4 screen split just hammering and building the day away. I love watching the kids use their imagination when it comes to Minecraft. It's definitely one of those games I don't mind saying YES to play! I decided to whip up a little something that is actually found in the game and kind of resembles the 8-bit Minecraft look. These mini pumpkin pies turned out perfect!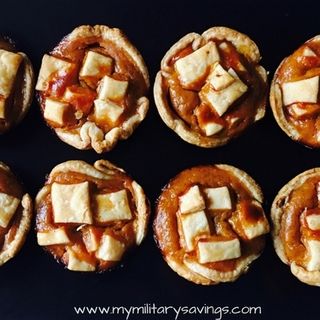 Now, anyone who knows me knows I love to be in the kitchen, but I don't have all day. I used two store bought refrigerated pie crusts and the pumpkin pie recipe from the back of the pumpkin can. (I'll put the recipe below!) And it turned out SO easy and SO good! (Trust me, I had one with my coffee this morning!) Just roll out the pie crust and use a round cookie cutter, drinking glass, or plastic bowl (that's what I used) to cut out your mini pies. You need the dough to be slightly larger than the muffin pan so it fits up the side. You may have to gather and roll out your dough scraps to get enough. Two pie crusts were enough for 12 mini pies and the block toppings. For the toppings, I rolled out the scraps and used a pizza cutter to cut out blocks. They aren't perfect or even the same size and that's okay! I randomly placed the blocks on each pie and baked them according to the recipe.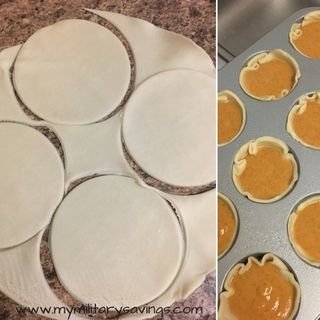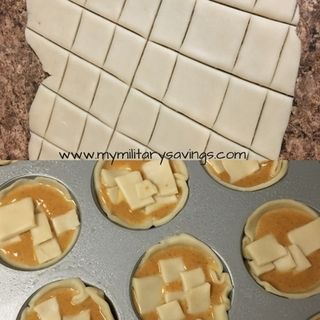 While baking, they puffed up quite a bit and I got so nervous the pie would actually swallow the block toppings, but once they cooled and everything settled down, they looked great. These would be VERY easy to customize with tiny cookie cutters to make your own pie crust topping. I think the random blocks turned out super cute and BONUS they taste amazing! An easy and fun way to dress up a plain pumpkin pie!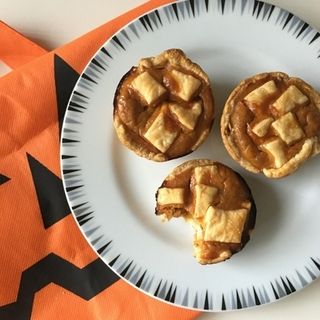 Easy Pumpkin Pie (straight from the back of the pumpkin can!)
3/4 cup granulated sugar
1/2 tsp salt
2 teaspoons of pumpkin pie spice
2 large eggs
1 can (15 oz) pumpkin
1 can (12 oz) evaporated milk
2 refrigerated pie crusts
Preheat oven to 425. Mix sugar, salt, & spices in a small bowl. Beat eggs in large bowl. Stir in pumpkin & sugar mixture. Gradually add evaporated milk. Pour into pie shells. Bake at 425 for 15 minutes. Lower temperature to 350 and bake for another 30-40 minutes until done. Let cool.
I hope you try these mini pies to kick off your holiday baking! Let me know in the comments below what else you'd like to see from Nerdy Nibbles!