Pumpkin spice coffee, pumpkin muffins, pumpkin soup, pumpkin pie… Tis the season!!! But why does every other sweet treat have to have a bad rap right now? What if you don't even [GASP] like pumpkin!? Or what if, like myself, you're just plain tired of it? This Thanksgiving I say MOVE OVER pumpkin and pecan pies! I've found something just as tasty. Just as creamy. Just as easy. Just as delicious. If you're ready to jump off the pumpkin bandwagon with me, THIS has to be the first thing you try!
Oh, helllllllo candied apples! I forgot how scrumptious those caramel apples used to be from the state fairs and how much I looked forward to snagging one every time my family went. This cheesecake incorporates the perfect amount of apple pie filling and toffee, which is basically a crunchy caramel. So yeah, close your eyes and imagine that again. Apples. Toffee. Shortbread cookies. Walnuts. Cheesecake. Is your mouth watering yet??
Wait no more. Grab these items the next chance you have!
1 cup crushed Keebler® Pecan Sandies® (about 10 cookies)
3 Tbsp. butter, melted
1/2 cup plus 2 Tbsp. sugar, divided
2 pkg. (8 oz. each) brick cream cheese, softened
2 tsp. vanilla
1/2 cup sour cream
2 eggs
1 cup apple pie filling, divided
1/2 cup walnut pieces, divided
1/2 cup toffee bits, divided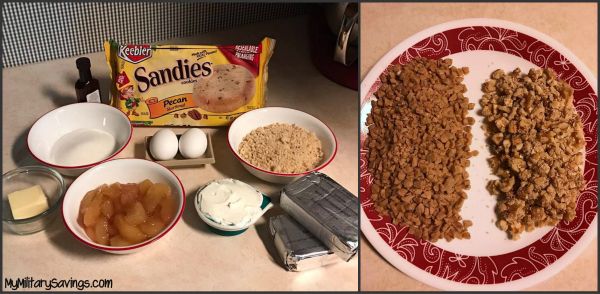 Step 1) Heat your oven to 325°F. Mix the crumbled Sandies®, melted butter and 2 Tbsp. sugar. Then press onto the bottom and up the sides of an 8 or 9-inch pie plate.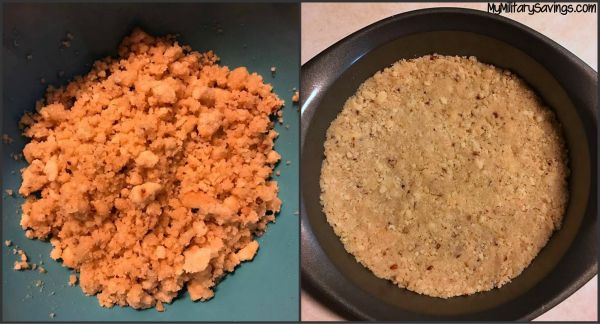 Step 2) Beat cream cheese, 1/2 cup sugar and vanilla with mixer until blended. Add the sour cream and mix well. Add eggs individually, beating until blended after each one.

Step 3) Stir in about 2/3 of the pie filling, nuts, and toffee (just eyeball it). You will save the rest of these ingredients to top the cheesecake with.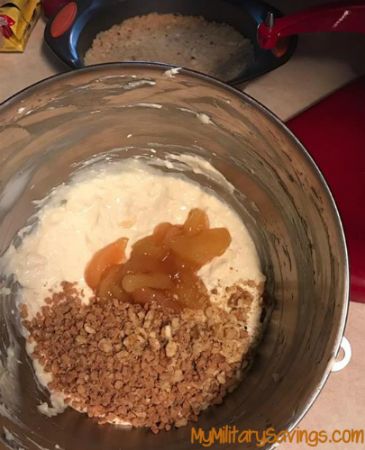 Step 4) Pour your mix into the crust. Bake for 35 min. or until the center is almost set. Cool and then refrigerate for at least 4 hours.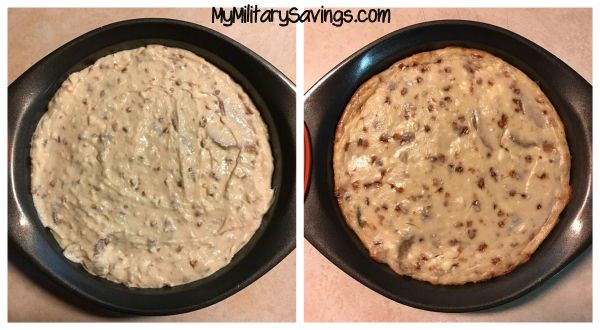 Step 5) Top with the remaining pie filling, nuts and toffee before serving.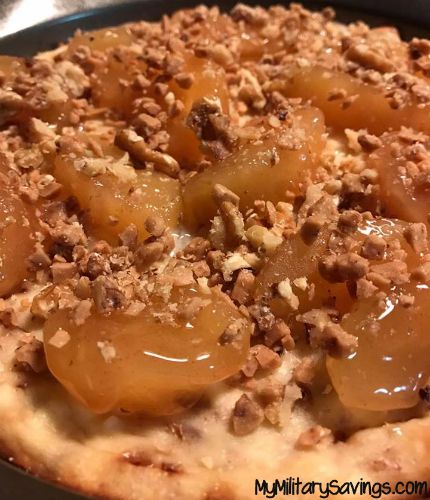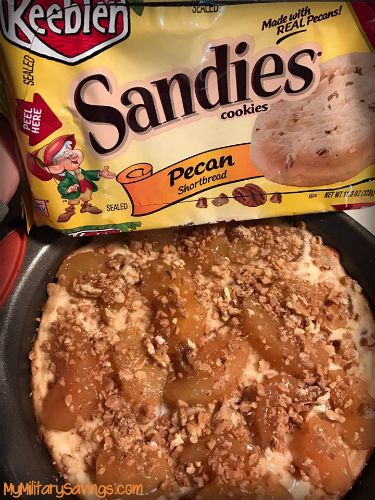 I guarantee if you have never used Sandies® shortbread cookies to make a crust, you will FALL IN LOVE! Serve this for your family and you are sure to please!
Pumpkin pie who???? Candied apple pie cheesecake is the new star!
Visit MyMilitarySavings.com for more delicious recipes!!