I don't know about you, but I LOVE soup. It doesn't matter how hot it is outside, I could always eat a delicious bowl. Luckily, it's finally cooling off so it's more acceptable to keep making soup. 😉
This red lentil soup is SUPER quick, easy, and very tasty. It's warm and fragrant and just SO good! In fact, it gets even better as leftovers. Make a pot for Meatless Monday and then pack it for lunch the rest of the week!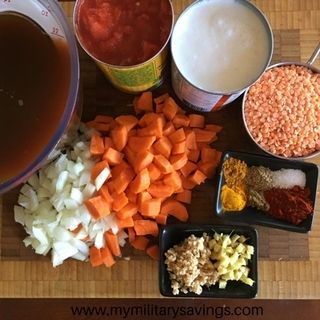 Red Lentil Soup
1/2 onion, chopped
2 carrots, chopped
1 cup red lentils
1 can diced tomatoes
1/2 can of coconut milk
4 cups vegetable broth or water, I think the broth adds a great flavor to the lentils
1 heaping tablespoon minced garlic
1 heaping tablespoon minced ginger
If you aren't familiar with these warm spices, I'd start with 1/2-1 teaspoon each: turmeric, cumin, coriander, curry powder, salt, smoked paprika (regular paprika works too!) I ended up using about 1 1/2 teaspoons each.
Add about two tablespoons of the cooking oil of your choice to a pot. Over medium heat, add the onion and carrots and sauté them until the onions are translucent, about 3-4 minutes. Add the garlic and ginger and sauté another 2 minutes. Next, add your spices in and let them cook until they become fragrant.  Add the lentils, tomatoes, and broth to the pot and bring to a simmer. Reduce heat to low and let it simmer for at least 20 minutes. Once the lentils are soft, add the half a can of coconut milk and stir. The coconut milk isn't overpowering, it just adds a nice subtle layer of flavor along with the broth. If you quickly chopped your onions and carrots like I did, you'll have a somewhat chunky soup! 😉 You can always use an immersion blender or carefully add your soup to a blender if you want a smoother soup! You can add sour cream or plain greek yogurt as a topping (leave off if you want to keep it vegan!) and I highly suggest trying the gremolata! Check out the recipe below: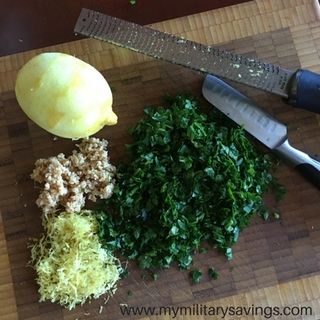 Gremolata is a condiment consisting of chopped parsley, garlic, and lemon zest. It's my new obsession! You can serve gremolata over anything for a burst of tasty freshness. It's especially great over the winter with those heavy root vegetables in season!
Gremolata
1 bunch of parsley, chopped finely. (You can even use cilantro or basil)
The zest of one lemon. I used a microplane, but you can easily use a vegetable peeler!
2 tablespoons of minced garlic
Mix all three ingredients in a bowl and there you have it! Add a spoonful to your bowl of red lentil soup and enjoy!