It's December! Usually a very busy month so I have two super simple recipes for you today. I served them up to the kiddos as an after school snack, but they would also be perfect for a holiday movie night! These recipes go great with a winter wonderland so if you have snow, well, I'm jealous! It's slightly chilly here in San Diego so we'll just keep faking winter. 😉
The first recipe is Chocolate Peppermint Crunch Popcorn. YUM! Four super simple ingredients: 3/4 cup un-popped popcorn, 1 cup of white chocolate chips, 1/4 teaspoon of mint extract, and chocolate mints! I looked for mint & chocolate baking chips, but the commissary was sold out. I used a whole package of after dinner mints (that's a lie, I ate 2!) and just gave them a rough chop.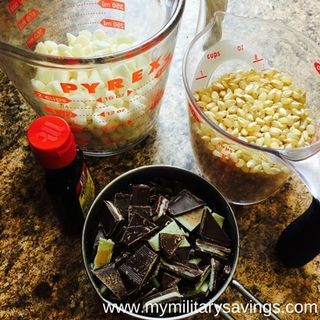 First, pop the popcorn. Add the extract to the white chocolate and melt in the microwave. Add your ingredients to a large bowl and stir.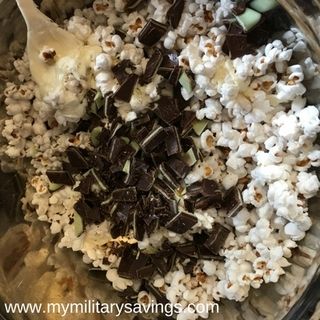 Spread on a baking sheet lined with wax paper. I added some red and green sprinkles. Totally optional! Add your favorite colors or don't add them. Up to you!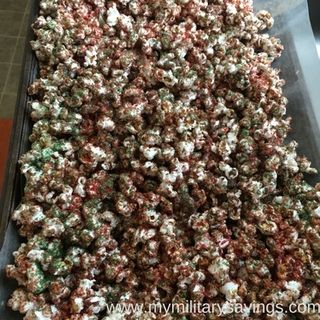 Let it cool for at least an hour. Once the kids got home from school, I whipped up some white hot cocoa! This is another EASY recipe. Ingredients for 4 servings are as follows: 4 cups of whole milk (You could use half & half for some or all of the cups. It would make it incredibly rich and delicious!) 1 cup of white chocolate chips, 1 teaspoon vanilla extract, and a tiny pinch of salt. Slowly heat all the ingredients in a saucepan over medium heat, whisking until the chocolate is melted. You don't want to bring it to a boil and scorch the milk. Once heated, add to your favorite holiday mugs and now it's time to top! I have one kid who loves marshmallows and one who loves whipped cream. And they both love sprinkles! It was such a fun afternoon and really put me in the holiday spirit. I think we'll whip this up again over the weekend and have a holiday movie marathon!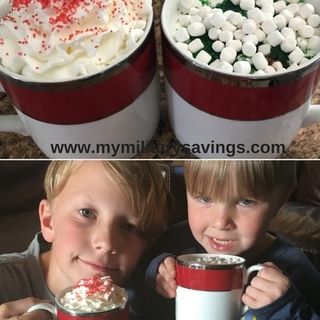 So warm and toasty! A perfect remedy if Jack Frost is nipping at your nose! 😉