Happy Valentine's Day! I hope everyone is having a fantastic day. Now, I don't have any chocolate for you, but I do have TWO delicious crockpot recipes today! Skip the pricey dinner reservations and serve your loved ones a home cooked dinner and dessert. They never have to know you spent minimal effort just adding everything to a crockpot that morning. 😉
First up, Tortellini and Chicken soup with veggies. YUM! I love an all-in-one dinner! This serves 6-8 people easy.
Add to the crockpot:
1 1/2 pounds of boneless skinless chicken breasts
1 cup of diced celery
1/2 cup diced onion
1 cup of diced or shredded carrots (I bought shredded to save even more time!)
1 heaping tablespoon of minced garlic
Salt and pepper
6 cups of your favorite broth
Set on low for 6-8 hours or high for 4-6 hours. Next, shred the chicken and add in:
1 can of evaporated milk, whisked with 1 heaping tablespoon of cornstarch
4 cups fresh baby spinach
20 oz fresh tortellini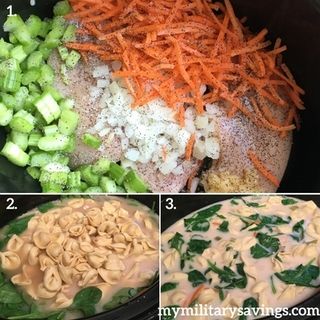 Let that cook for at least 30 minutes. Serve with your favorite garlic bread!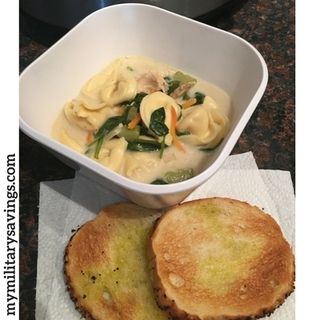 And now for the best part, dessert! I'm lucky enough to have an instant pot that doubles as a slow cooker so I was able to put both these dishes in crockpots the same morning. If you don't have two, you can definitely make this cobbler ahead of time and keep it in the fridge. It reheats amazingly (as proof, I had some for breakfast!)
3 Ingredient Fruit Cobbler:
Spray the bottom of the crockpot with nonstick cooking spray.
Add two cans of your favorite fruit pie filling (I used blackberry) to the slow cooker
Melt one stick of butter and mix it with one box of white cake mix
Top the fruit filling with the cake mix
Cook on low for 6-8 hours or high for 4-6 hours.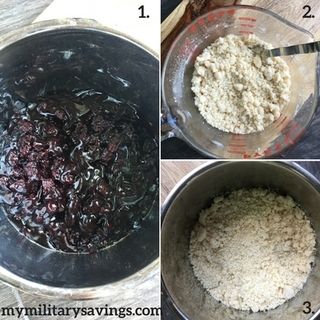 Serve warm with your favorite ice cream. I hope you enjoy!