Crispy Oreo Pops
Crispy rice treats remind me of childhood. Of playing outside all day, lemonade stands, tree-house clubs, neighborhood kickball, and never-ending summers. It wasn't until I grew older that I realized how easy of a dessert it is to make, which makes perfect sense as to why my mother made it almost anytime my brother or I asked for it. Which further explains why I can remember snacking on and loving those treats all throughout my adolescence! When you think of warm weather you may recall watermelon or popsicles… for me, it's crispy treats all the way. We never got crazy with it and added in Oreos® or anything else, but I think back and wonder why the heck not!? It's a fantastic idea and really, the possibilities are endless. Cookies, candy, peanut butter… oh my!
It's not quite summer weather yet here in New York, however, Valentine's Day is around the corner. I'm not sitting in the sunshine in flip flops just yet, but I am daydreaming about it! And in the meantime, I was asked to bring in a treat for my daughter's 5th grade Valentine's party. Perhaps I had a flash back of my 5th grade days… something just screamed "crispy rice treats!" and I was set on it ever since. Again, the simplicity of making it and the ease in which different shapes could be cut out for themes (say, hearts for V-day!)… it's just the perfect go-to for school functions, fundraisers, after school snacks, even breakfast! (Don't judge me.) I'm even willing to share my awesome sauce Crispy Oreo Pop recipe with you!
Whether you signed up to bring in a snack somewhere, you just want to use up the extra marshmallows in your pantry, or you have loved these treats all your life and I've sparked a sense of nostalgia within you… I say give these Oreo® Pops a go! I'm behind you 100% of the way.
This is all you need: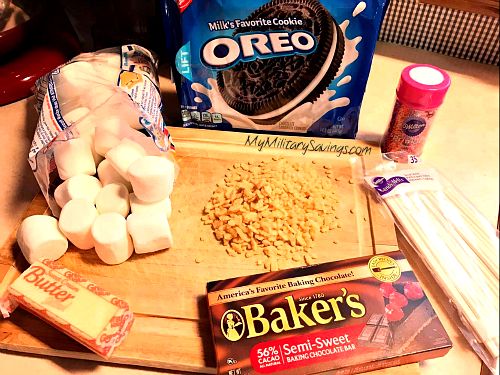 3 Tbsp butter
10 oz. marshmallows
5 cups crisp rice cereal
16 Oreo® Cookies, coarsely chopped (about 2 cups)
4 oz. semi-sweet baking chocolate, melted
Colored sprinkles
Lollipop sticks
Now for the fun part-
Step 1) Microwave butter in large microwaveable bowl on HIGH 45 seconds or until melted. Add marshmallows; toss to coat. Microwave 1 1/2 minutes or until marshmallows are completely melted and mixture is well blended, stirring after 45 seconds.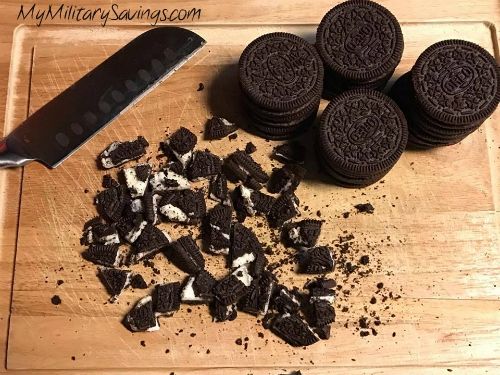 Step 2) Add cereal and chopped cookies; mix well. Press onto bottom of 9-inch square pan sprayed with cooking spray. Cool completely.
* Using a 9-inch pan will make 18 bars. I chose to use an 8″x11″ dish to make 21 bars (7×3).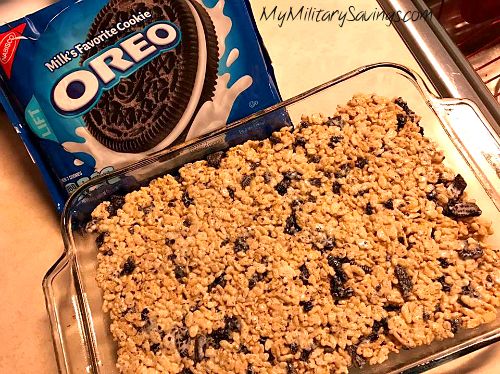 Step 3) Cut into bars. Insert lollipop stick into one end of each. Dip ends in melted chocolate; top with sprinkles. Refrigerate 10 minutes or until chocolate is firm.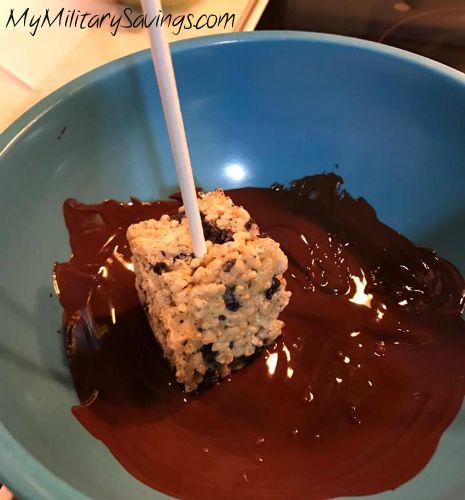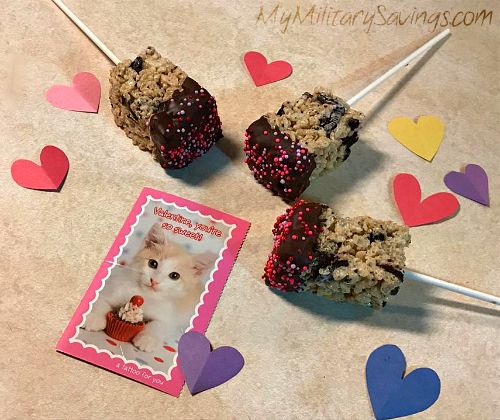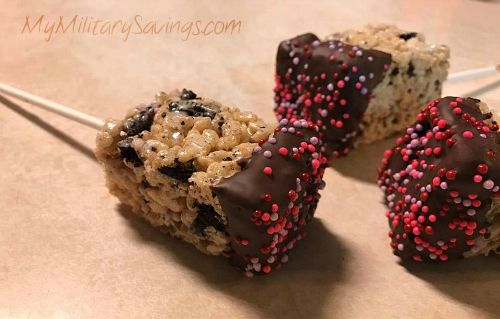 These are cute, fun, festive, and YUMMY. I think this Mama deserves a big ole high five! And a few of these pops for myself! 😉
Happy Valentine's Day, y'all!
For more yummy treats visit MyMilitarySavings.com!