My mother gave me this recipe on a beat up index card when I first spread my wings and flew out of her nest. It was basic enough that she had faith I could prepare it without catching anything on fire – and it also happened to be one of my favorite dishes that she made ever since I was a little girl. I brought that beat up index card with me to three different houses that became my homes (I suppose I had somewhat of a gypsy soul) and it was also one of the first meals I prepared for my husband when we were newly married and starting a life together. When you are unsure, always refer back to good ole Mama's Favorites, right? He didn't die and our kitchen remained intact so I'd say it was a win win.
Okay, okay. I'm just joshin' about my terrible cooking skills. I have actually advanced to somewhat of a rockstar status when it comes to meal preparation (my children may disagree with that one) but we all have to start somewhere. This cheesy ham and hash brown casserole is so simple that it could easily be thrown together in a dormitory by young adults that have a hard time making a bowl of cereal, but it's also tasty enough to impress even a large dinner crowd of, say, your spouse's entire family. Yep, I've been in both situations. And, actually, my father-in-law insisted that I share the recipe with him!
The secret ingredient to this casserole is the Kellogg's Corn Flakes® that are spread on top before baking. A cracker or crumb topping will not suffice – you HAVE to use Corn Flakes® mixed with melted butter for perfection in every bite. My father-in-law thought I was crazy when he saw me putting this dish together… but as I said, he was dying for the recipe after he tasted it!
These are the only things you'll need:
2 lbs. frozen hash browns
2 cups shredded cheddar cheese
1 tsp pepper
1 Tbsp onion flakes
1 can cream of chicken soup
12 oz. sour cream
1 and 1/2 cups diced, cooked ham
1 and 1/2 cups crushed Kellogg's Corn Flakes®
1/2 cup melted butter
Preheat the oven to 350 degrees. Mix all ingredients together except Corn Flakes® and melted butter. Put in a greased 9 x 13 pan.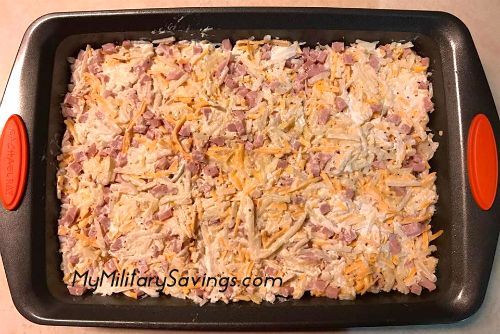 Combine Corn Flakes® and melted butter and spread over casserole.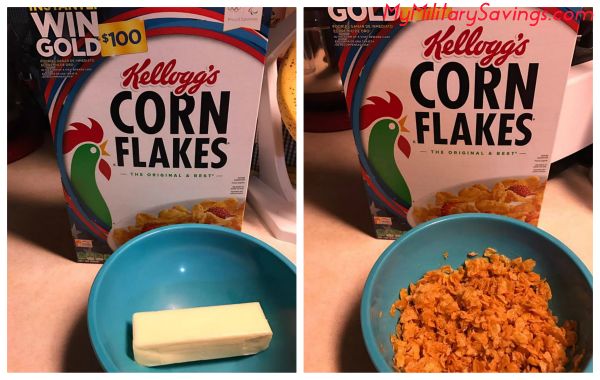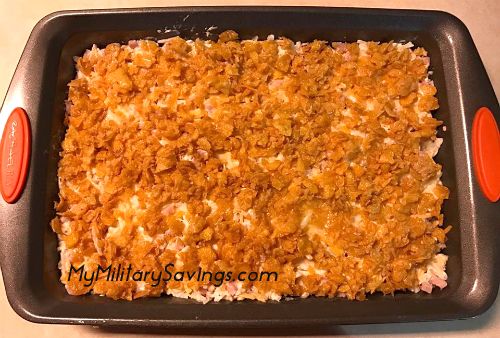 Bake uncovered for 1 hour.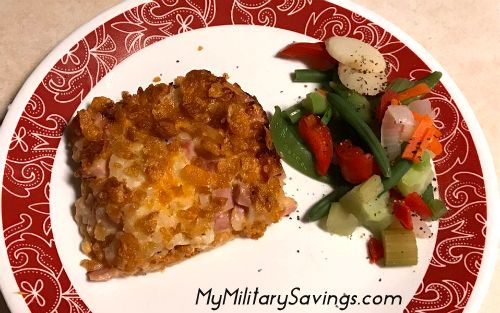 I typically serve this for dinner, but it makes a fantastic breakfast casserole, too! And leftovers are ahh-mazing – add a splash of hot sauce and you are good to go with a meal that tastes just as good as it did fresh out of the oven.
Give this a shot and let me know what you think. Was it good or was it good???
For additional recipes for all occasions, subscribe to MyMilitarySavings.com!