Commissary Savings on Tylenol Cold® This February
My son had a pretty rough January, so I thought February would be a little easier.  Well, Mother Nature had other plans for us, and has really given us some crazy hot and cold weather.  This in turn, has been another rough month for my little one.  Luckily, I always know that I can turn to the brand I know and trust, Tylenol® Cold from Johnson & Johnson.
From a cold to a cough to a sore throat, or runny nose, Tylenol® Cold has something for you and your little ones. Tylenol® is a staple in my house because it works! We always have Tylenol® Cold in the cabinet, so that was our go to when my son came home with a fever! Check out just some of the different options Tylenol® offers for your little one:
Cold + Cough + Sore Throat comes in bubblegum flavor and relieves sore throats and headaches, quiets coughs, and reduces fever.
Cold + Cough + Runny Nose & Cold + Flu comes in grape flavor and helps relieves runny nose and headaches, quiets coughs, and reduces fever.
Check out some of these featured savings:
Tylenol® Cold & Flu Severe Warming Honey Lemon
Children's Tylenol® Cold + Cough + Sore Throat Bubblegum

Tylenol® Cold + Flu Severe Day/Night Caplets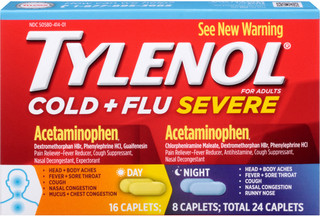 There is such a variety of remedies out there, you are sure to find the perfect match with Tylenol® Cold products. And it gets better!!  Right now, at your local commissary, you can SAVE on Tylenol® Cold products. These savings are good through 2/28/19 so stop in and stock up! For more deals, savings, and coupons visit our page here: Johnson & Johnson