I love anything Americana! I would decorate everything in it, if my husband would let me! So we work on compromise. We have meshed our tastes together very well, when I find something that I love, we can work them in together easily. Finding something to keep your hands busy is nice when you are just sitting down and watching television. Not only can you use this for your own home, BUT they make cute gifts too!! You know me… I like EASY! This is pretty simple! I found the transfers in our local craft store, and could not say no, so home with me it went. I chose the Liberty Bell to use first.
What you will need:
Hand Towel – (your choice, but I used a flour sack one), Thread (again, your choice, but I went with DMC), Iron on Transfers, Needle, Iron, Ironing Board, pins (to hold your pattern in place while you are transferring to your fabric).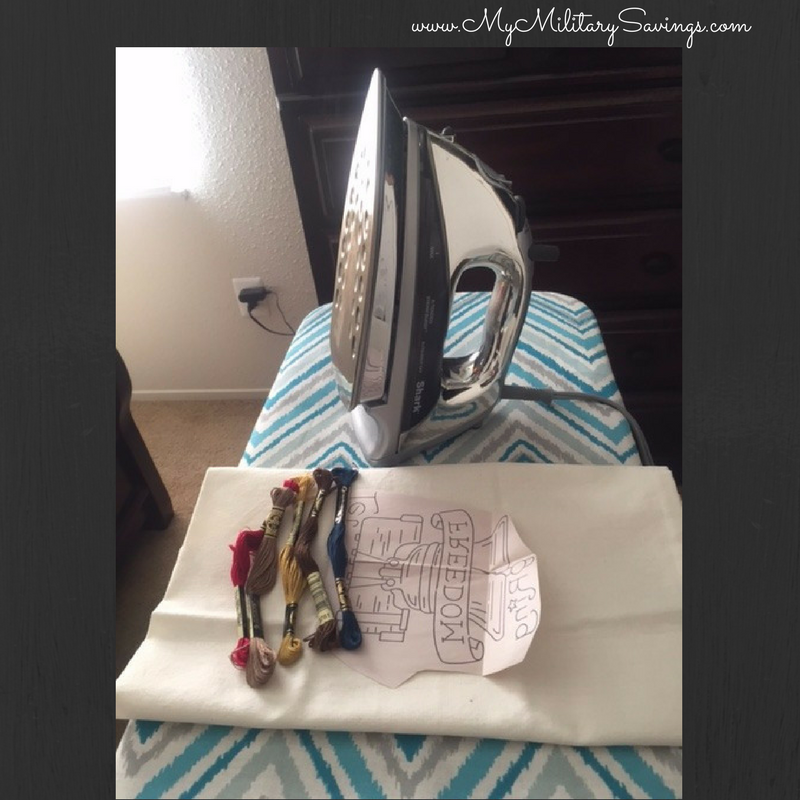 Time: From start to finish this took about 4.5 hours.
Total Cost: $4.27 (I got two towels, 8 transfers, and 5 skeins of thread for this price)
First, you want to start by putting the transfer on your cloth. I recommend putting something between your ironing board and the cloth that you are using. Otherwise, you might get a one of a kind board, like the one pictured below!  Pin your paper to the cloth (about five pins) to keep it from moving while you are ironing. I stuck my pins at an angle and pushed them through to the board to make sure they stayed put. Make sure your iron is on the right setting, and slowly pass your iron back and forth over the transfer. I pressed mine for about two minutes back and forth to make sure that I got the best lines possible.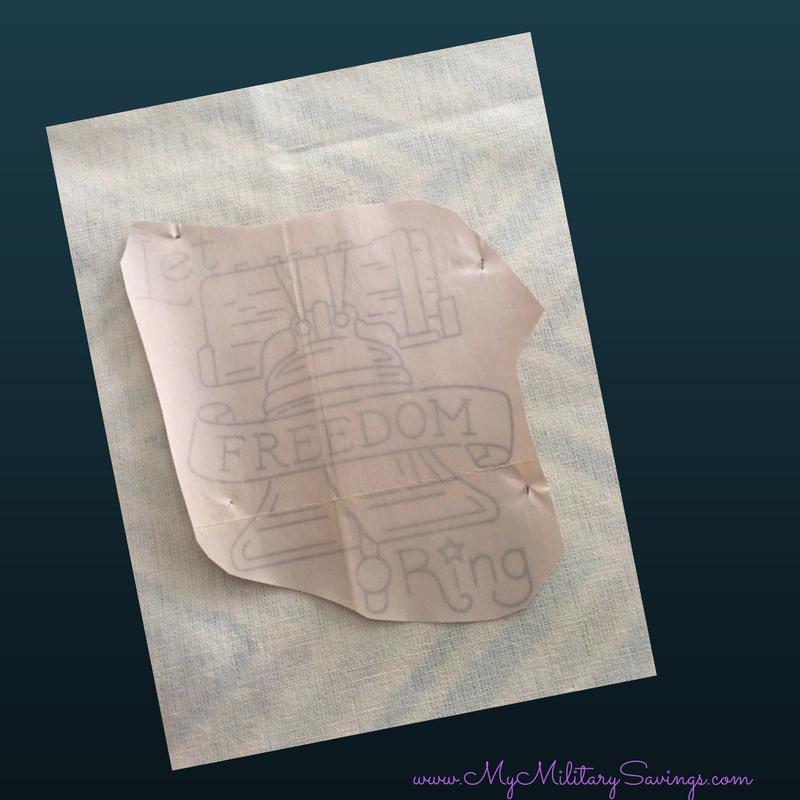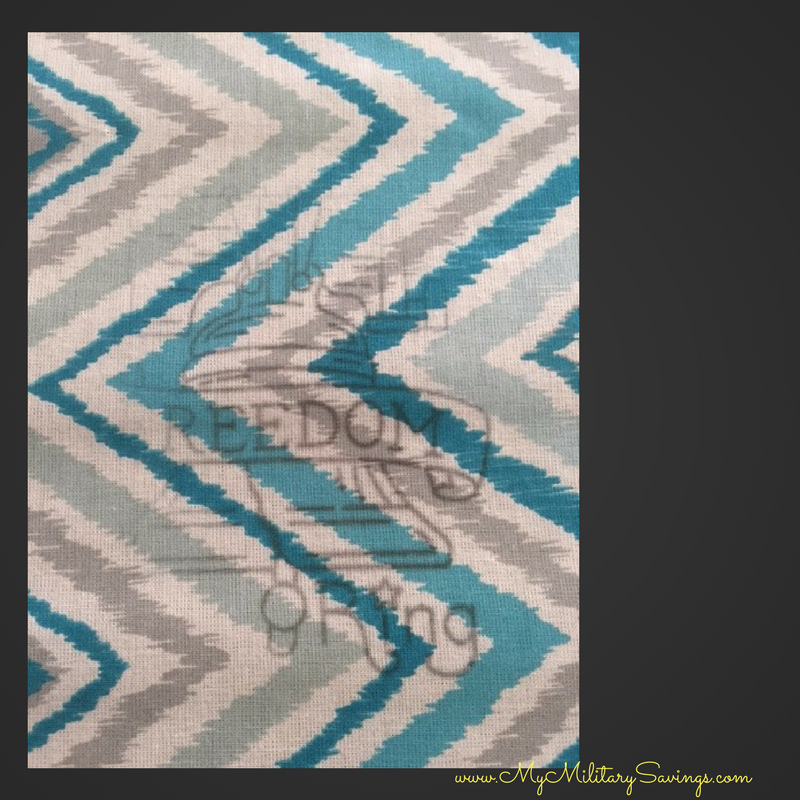 Second, threads! Use your favorite colors to create your pattern! Match your threads and then get to work! I  used a slip stitch to give a fuller look to the body of the pattern, while using a simple back stitch on the lettering.
Third, ENJOY!! Sit back and craft your heart out! I watched a movie while working on this, (okay two movies), but the downtime was perfect for this crazy afternoon!
When you finish your piece, you can decide if you want to keep it or pass it on! I am loving this one, so it will be gracing my kitchen as soon as I put it through the wash. Happy Crafting!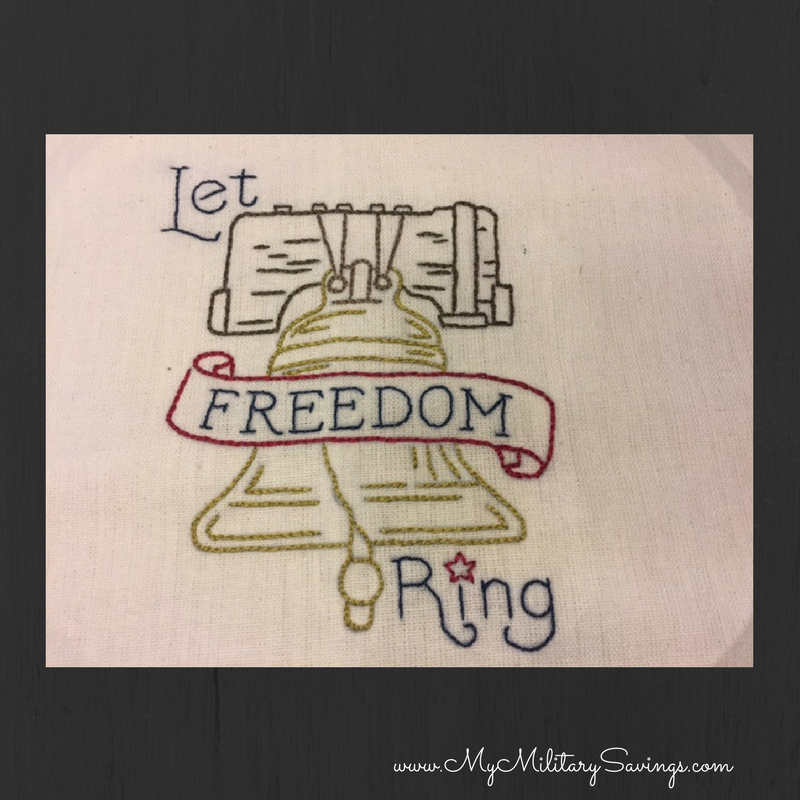 MyMilitarySavings.com was not compensated by the company, service or product mentioned in this blog. This is strictly the honest opinions, findings, beliefs, and/or experiences of the author. The views and opinions expressed in this blog are purely the bloggers' own. Any claims, statistic, quotes or other representation about a product or service should be verified with the manufacturer, provider or party in question. MyMilitarySavings.com is not liable for any risks injury or illness that may occur if you choose to act upon the bloggers' suggestions stated in this blog.