With a deployed husband, weeknights are my nemesis. With two kids in swimming, basketball, and baseball practice starting soon, we are go go go six days a week. So dinners need to be simple to prepare, quick to cook, while also being filling to keep us going the rest of the night.
They also need to be tasty and full of flavor beyond salt and pepper! That's actually rule number one in our family. So combining all those things into one meal can be hard. But thankfully this ground turkey stir fry hits all the notes, and is healthy to boot!
My oldest son loved it so much he ate three helpings! That's my favorite stamp of approval!
1lb ground turkey

2 cups green beans

1.5 cups carrots, diced

1/4 cup soy sauce

1tbsp dried minced onion

1tbsp minced garlic

1tsp ground ginger

1.5 tsp sesame oil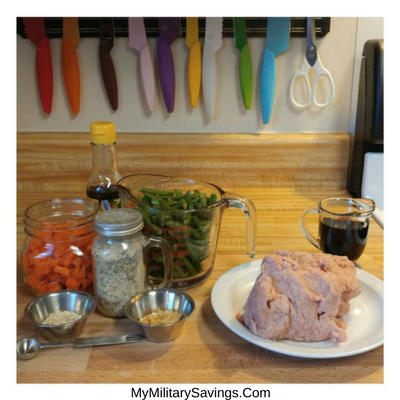 In a large pan over medium-high heat, brown ground turkey. Season liberally with salt and pepper to taste, then add in the dried onion. Once browned, remove from pan. Add sesame oil, ground ginger, and carrots. Cook for 5 mins to soften them. You want them to form but soft, not mushy. Then add in the green beans and minced garlic and cook for five mins.
 Add the ground turkey back to the pan, and mix in the soy sauce. Let cook another five minutes to heat through!
Done in twenty and ready to serve with your favorite side!
Ours is jasmine rice, what's yours?