March deals are coming in hot at your local exchange and Neutrogena® Cosmetics have some pretty amazing products that you need to pick up! Your face will be on point with Neutrogena® Mineral Sheers® Powder Foundation, while you line your eyes with Neutrogena® Nourishing Eyeliner, and extend your lashes with Neutrogena® Healthy Volume Mascara. This mascara is one of my favorite products. Some days I just don't have time for a whole beauty routine, but with Neutrogena® Healthy Volume Mascara I can make my eyes pop and it plays as a great distraction from my makeup-less face. Whatever your beauty regime may be, Neutrogena® has the right product to match your needs. You need to check out these amazing deals, and you need to do it quick because they are only here until March 31st!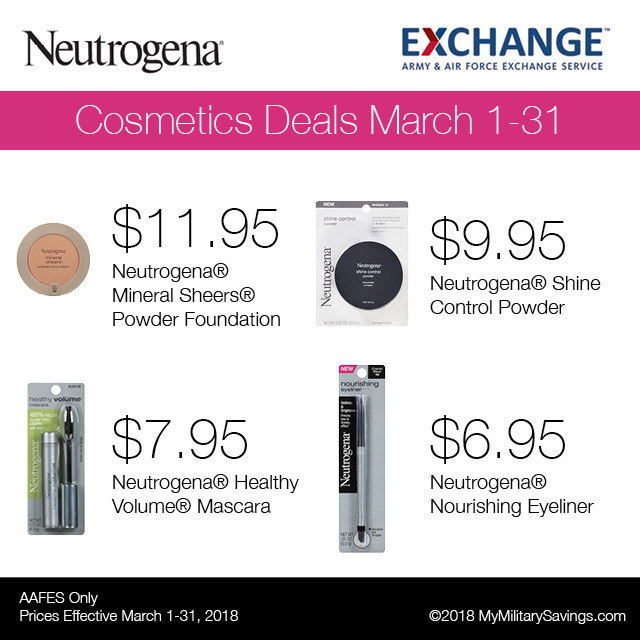 Now that your makeup is taken care of, let's talk about the end of the madness that we all may struggle with. I will be the first to admit that I love waterproof everything! My eyes are somewhat sensitive, so they tend to water a lot. This means waterproof eyeliner and mascara are must. However, we all know what a pain waterproof can be to get off! To top it off, it's an even bigger mess when I am in a hurry and have a major eye makeup mishap!! Well, NEUTROGENA® Makeup Wipes are to the rescue! Check out this video. We have all been here. So next time, let Neutrogena® Makeup Wipes have your back!
https://youtu.be/Jq9ZR4F41bY
Do you want more? Then you need to hop on over to https://www.mymilitarysavings.com/brands/johnson-and-johnson-aafes-exchange to get your beauty fix. Check out all the steals and deals that Neutrogena® has to offer. From makeup to skin care, you will find everything you need, and don't forget to get to your local exchange today to pick up the latest products from Neutrogena®.