Valentine's Treats For Breakfast, Lunch, & Dinner!
💘 Although you don't have to wait until Valentine's Day to show someone how much they mean to you, it IS a good time to take it up a notch and treat your loved ones to something really special! Some people express themselves with greetings cards, poems, jewelry, flowers, stuffed animals… but the way to my heart is good ole fashioned FOOD. And, well, if I whip something up in my kitchen for you then likewise, that is my way of showing you how much you mean to me! That being said… I skipped the box of chocolates for my children and husband this year and am going for a full Valentine's Day themed breakfast, lunch, and dinner. I've even got the snacks covered!! I mean, in a few weeks from now they won't remember the heart shaped candy Mommy bought for them, but they will definitely remember the heart shaped ice cubes, pizza, and pink cheese!! Oh yes! Intrigued at all? Then read on, my friends!! 💕
This is what I am planning for BREAKFAST. A feast for my handsome, egg-loving husband! With a couple extra pieces of bacon, of course. 🙂 For this recipe, check out Martha Stewart's page!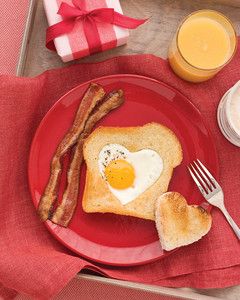 For my daughters, well, their ideal breakfast is anything with pancakes and/or sprinkles. So why not give them both, plus an extra sweet strawberry treat!?  This yummy recipe can be found at Complete Recipes.
I told you I had all of my bases covered… I even thought about drinks!! How adorable are these heart shaped ice cubes!?? You freeze colored milk to put into a nice, cold glass of milk. Genius! A Subtle Revelry gets the credit for that idea!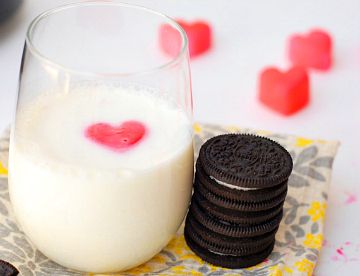 I imagine a few hours after breakfast my little lovelies will be ready for a snack. If you have school-aged children then this would also be perfect for them to come home to! How about a Cupid's Crunch popcorn mix!? I found this recipe from This Mama Loves and I have to admit, I'm totally setting some of this aside for myself! Hey, I can love me, too!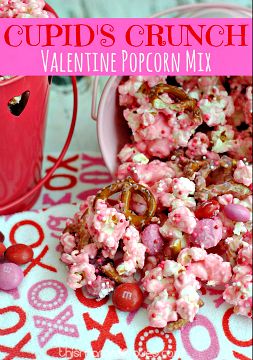 Now that brings me to lunch. You can't go wrong with pizza. Ever. I am so glad I stumbled upon Sarah Hearts page and found this idea! And it's perfect to customize each pizza individually with the toppings that each of your baby loves enjoy most! But seriously. Heart shaped pepperoni. I'm smitten. 💖
If your family is anything like mine, shortly following lunch will be another snack… almost two hours on the dot. My kiddos are like clockwork, except for when it comes to bedtime, of course. They fight routine tooth and nail when it comes to that! But, yes, snack time. This healthy and filling grape tomato and cheese plate should do the trick! I found this idea from Parents online.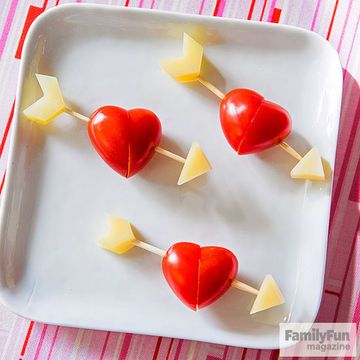 I think my favorite Valentine's meal that I have planned is dinner. We have been eating a lot of salads lately and the typical Caesar or spinach salad is getting old. This eye catching goat cheese plate from Joy the Baker is right up my alley!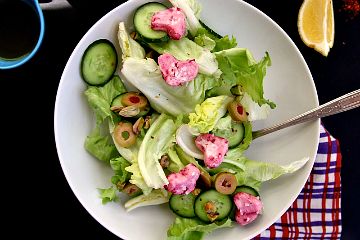 I'm not parent of the year by any means, but all of this deliciousness is totally possible with a little prep ahead of time. I figure it is one day out of the year that I can try to "go all out" and spoil the people that mean the most to me… in a creative and unexpected way. Plus, it would be a great bonus if it also earned me a "don't worry about the dishes Mom, we got it." Ha!
Are you planning anything fun in the kitchen this Valentine's Day? I'd love to hear about your creations!! Drop a comment and photo below!