Easy Appetizers for New Years Eve!
New Year's Eve is one of my FAVORITE holidays for appetizers. I love making a bunch, having a yummy drink, and just snacking all evening long! These appetizers are great for a fun party or if you're in your jammies with your kids (trying to stay awake until midnight) like me! 😉
Ham Crostini with Havarti, Pear, & Honey
Sounds fancy right? This is a great all-in-one appetizer, meaning there's sweet, salty, crunchy, creamy, and savory all in one bite! They'd even be great as a light dinner! Start with a sliced baguette, drizzled in olive oil, and toasted in the oven until lightly browned. Stack each crostini with sliced havarti cheese (or your favorite cheese) deli ham, thinly sliced pear, and then drizzle them with honey. My husband sampled one and fell in love. He loves the cheese + fruit + honey combo.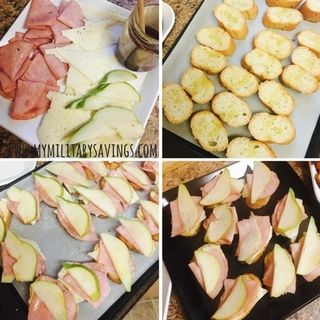 Hawaiian Cheese Ball
I asked my bestie what her favorite appetizer was and she said, without hesitation, the Hawaiian Cheese Ball! Now, I've had a ton of cheese balls in my life, but never anything like this. It is AMAZING! Slightly sweet, salty, crunchy, and creamy. I stumbled on a theme for the night without even trying. 😉
Mix together two blocks of softened cream cheese, 1/4 cup of diced bell peppers (I used a frozen bag to save time, just thaw & drain them first) one small can of crushed pineapple, drained and 1 cup of nuts. You'll use 2 cups of nuts total. I used walnuts, because that's what I had, but I think pecans or almonds would be equally awesome. One thing I ALWAYS do for any recipe that calls for nuts is definitely take the time to toast your nuts. Just put them in a pan on the stove on low and let them slowly toast. It really brings out the toasty nutty flavor (I'm so technical!) Ha ha! I stuck the mixture in the fridge for about 15 minutes to chill while the nuts cooled off as well. Put the other cup of the chopped nuts on a plate and then roll the cheese ball in the walnuts. Chill until you're ready to dig in with your favorite crackers. SO GOOD! Thanks to my BFF for giving me the idea 😉
Fried Tortellini Bites
I wanted to try something different and new with this third appetizer and holy moly! Forget fried ravioli. The new hotness is DEFINITELY fried tortellini! There are a few steps to it, but it is SO worth it. The kids told me it was there most favorite thing ever and that's big coming from them! You want to start with refrigerated tortellini pasta. I bought the big container and it made a ton of bites. Boil them as per the instructions on the package, drain, and let cool. I set up a dredging station and after the mess the 10 year old and I made, I think using large ziploc bags for the dry ingredients would be a lot easier to contain the mess. Start by dredging the tortellini in all purpose flour (1 cup), beaten eggs (4 eggs), and a mixture of panko bread crumbs (1 cup w/more added halfway through) with parmesan cheese (1/4-1/2 cup). I had to do it in batches because my frying pan is only so big. Fry in oil until brown on both sides. Serve with warm marinara sauce.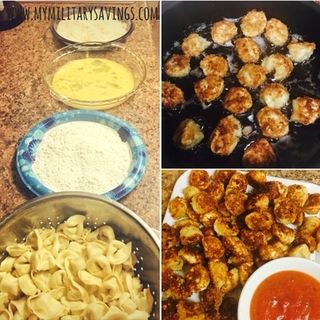 Each appetizer is fantastic on it's own and they make a pretty great meal all together. I hope everyone has a great New Year's Eve (and makes it to midnight!) Maybe I'll serve coffee after everyone noshes on these yummy appetizers! Here's to a great 2017!!