BOOST® Energizing Oatmeal
Ok, so I have to be honest when I say I am an Oatmeal lover and a little bit of an expert. I feel like I have been eating oatmeal since before I could talk, and it is still one of my favorite (and go to) breakfast on any day of the week. I am always looking for new recipes and add-ins when it comes to oatmeal, because let's be honest, it can get a little boring if we don't spice it up!
Well BOOST® has just taken my oatmeal to a whole new level! This simple yet flavorful recipe has made me fall in love with oatmeal all over again! And you know what the best part is? It only takes 2 ingredients! So whether you are on the go or relaxing at home, this quick and simple breakfast is full of flavor and packs a healthy punch!
BOOST® has several different types of Nutritional Drinks so you can find the best fit for your life. These products include:
BOOST® Original (Chocolate, Vanilla, Strawberry)
BOOST® High Protein (Chocolate, Vanilla, Strawberry)
BOOST® Glucose Control (Chocolate, Vanilla, Strawberry)
BOOST® Plus (Chocolate, Vanilla, Strawberry)
BOOST® Calorie Smart (Chocolate and Vanilla)
Check out this amazing recipe for BOOST® Energizing Oatmeal:
What You Need
1 individual packet instant oatmeal (any flavor)
4 fl. oz. (1/2 bottle) BOOST® Vanilla Drink
Instructions
Combine oatmeal and BOOST® Vanilla in a microwave safe bowl.
Heat uncovered for 1 ½ – 2 minutes.
Allow oatmeal to rest until desired consistency is achieved.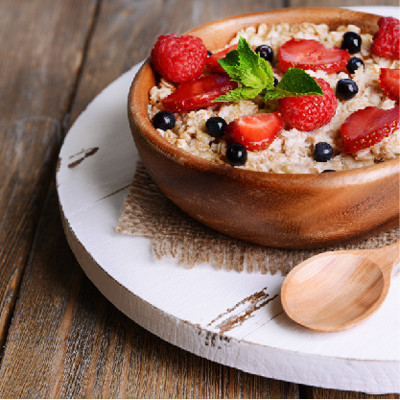 And right now at your local commissary, BOOST® Nutritional Drink (Original and High Protein) have a super HOT DEAL happening! Now through October 31st, you can get BOOST® Nutritional Drink for $7.79 (Original, 6 bottles), $7.89 (High Protein, 6 bottles), and $14.39 (High Protein, 12 bottles). So hurry in and stock up, because this is a deal you don't want to miss!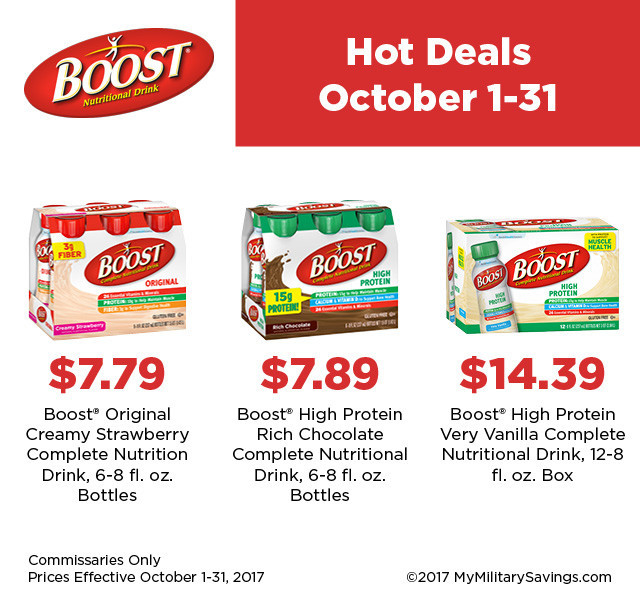 If you want more deals, coupons, and recipes check out https://www.mymilitarysavings.com/brands/nestle-nutrition for more!