We are experiencing an unusually mild winter here in Western New York! ❄️ In mid-November of 2014 my town (Hamburg, about 20 minutes from Buffalo, NY) was hit with around 7 feet of snow in FOUR days… in what some call a freak occurrence. I call it lake effect snow, and it stinks. But so far this year we haven't had any snow at all, that has actually stuck to the ground!! Hey, I'm not complaining. Shoveling feet upon feet of that dense, powdered stuff and slipping and sliding on the icy roads is not my idea of a good time. But my little ones have grown used to having a "White Christmas" and they are beginning to get antsy. Every morning before school my oldest asks, "Is it supposed to snow today?" – it's become such ritual that lately I've been greeting her with my hand up in *stop* position and I just shake my head and say, "Look kid, it ain't happening." This is said with love, do not worry. It's just that "kid" is typically the only name I can come up with prior to COFFEE.
Anyhow, in hopes to keep Christmas as magical as I can for my sweethearts, I have secretly begun hoping for snow flurries… although I prefer that it accumulates to no more than one inch on the ground. I have also adorned my windows with the fake snow spray, I've spray painted leftover pumpkins white to build our own snowman (because honestly, it may be our only chance!), and I've pulled out all of the snowflake crafts I could find. We are going to have us a Winter Wonderland whether it snows here or not!
My four year old particularly enjoyed this snowflake canvas project so if you have younger ones that have difficulty "coloring inside the lines" then this will be perfect for them as well. All you need is: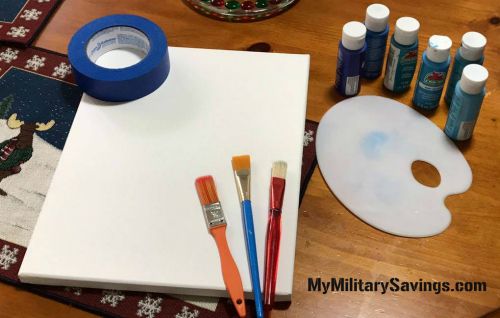 Painters tape
Blank canvas
Paint and paintbrushes
Begin by placing painters tape on to the canvas in the shape of a snowflake. I winged it but was pretty pleased with how it turned out-
We chose different shades of blue paint to give our picture a cold, icy feel (as we sang Let It Go, over and over and over). I put little globs of each color on a palette, although a paper plate would work just fine as well, and I let my munchkin go at it. She mixed and swirled and dotted and scrubbed in every which way possible until the entire canvas was covered.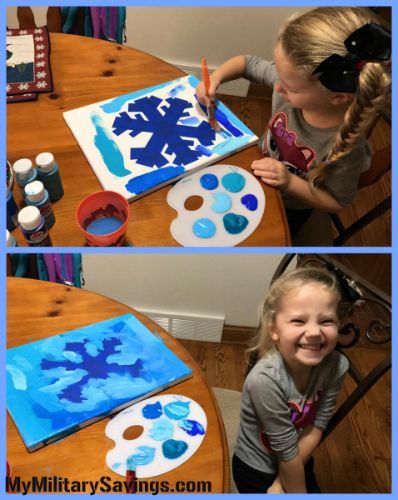 I let the paint dry for 10-15 minutes and then I slowly removed the painters tape. My daughter thought this was the coolest thing ever…
… And I have to agree with her. This was by far one of my favorite kid-friendly crafts. It looks amazing by our fireplace!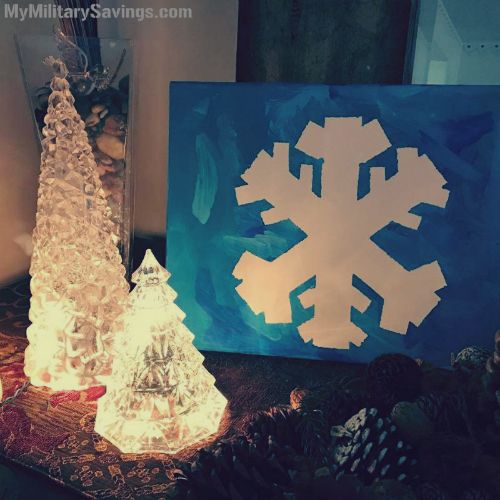 Are you in colder areas celebrating this time of year in snow pants and ski masks? Or are you in warmer parts wearing ugly Christmas sweater vests with flip-flops? Are you dreaming of a White Christmas or would you rather be sipping spiked eggnog on the beach!? Hehehe.
Happy Holidays, y'all. <3