I have a confession to make. I was grabbing a few things from my garage and noticed a thick, decaying scent from somewhere on the far side. My initial reaction was panic, of course, because I was wondering what in the world!? Did something die in here?? Then I became frustrated because I couldn't pin point the root of this smell; it was wafting from all directions, I tell ya! I won't admit to how long it took me… but do you have any ideas what it was that I found?
A bucket with a few inches of water full of decomposing leaves, grass, flowers, moss, rocks, sticks, acorns, and a pencil eraser! No clue on that one. The rest of it, well, I immediately knew the culprit. My four year old. A few weeks ago the weather here in New York was right between hot and cold- like a very breezy warm. I turned our AC off, kept the windows open, and life was great. On these days I had the garage open (that connects to our kitchen) and my daughters would play outside while I prepared dinner. APPARENTLY my littlest munchkin had the idea to make soup; you know, the kind all little kiddies like to make that ends in a big brown mess that they stir with long sticks and try to season with weeds. This soup was never properly disposed of. Gross.
Anyway, as I was reporting my rotted findings to my husband, said four year old overheard and grew upset with me that I had dumped her "collection of leaves." Looong story short, this brought us outside where we went on a hunt to find as many different types of leaves as we could. Perfect timing on our part as fall was in the air and the trees were just beginning to change color! To have been such a simple task, we really enjoyed ourselves. Once we brought our "new collection" back to the porch and sorted them I decided that there had to be more for us to do with these leaves. Katie's my name, arts and crafts are my game!!
My little one decided that she'd like to make something where the leaves would be somewhat preserved, and as this particular Foil Leaf Print craft came to mind I became excited about creating something with her that would help her really study the anatomy of a leaf. Plus, it was something fun to do together. That's a win-win-win all around.
I'd recommend you give this a go with your adventurous ones, especially now that you may have some beautiful trees with oranges and reds to choose from! The leaves don't show in the craft, but they're just fun to pick. 🙂
All you need:
A few leaves
Piece of cardboard
Glue
Paint of your choice
Tape (not pictured)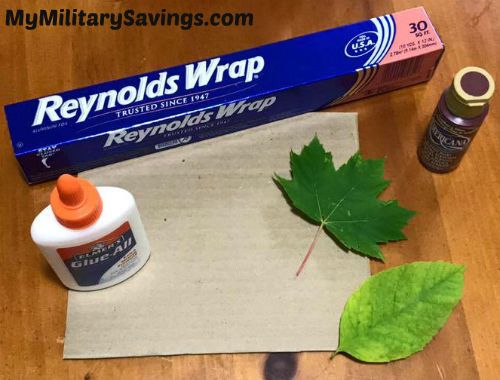 To begin, glue your leaves down on the cardboard with the veins facing up so you can really capture the texture with your paint. Then cover your cardboard with a sheet of Reynolds® aluminum foil, fold the excess foil around the back and tape in place.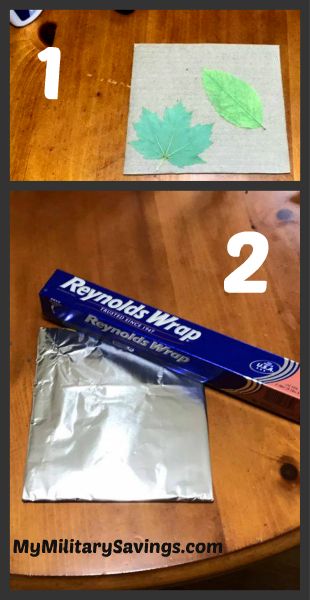 Next, gently rub the foil flat across the entire cardboard piece and then go back and press harder on top of and around the leaves to show as much detail in the leaf as possible. Then begin painting! The options for painting are endless – I used a paper towel to smear and smudge some color around, my munchkin used her fingers, I ended up trying an old washcloth, and then we used a sponge paintbrush. I was just playing around with the different looks created by each tool, but I think I liked the washcloth the best. If you ask my daughter, of course her fingers were the most fun!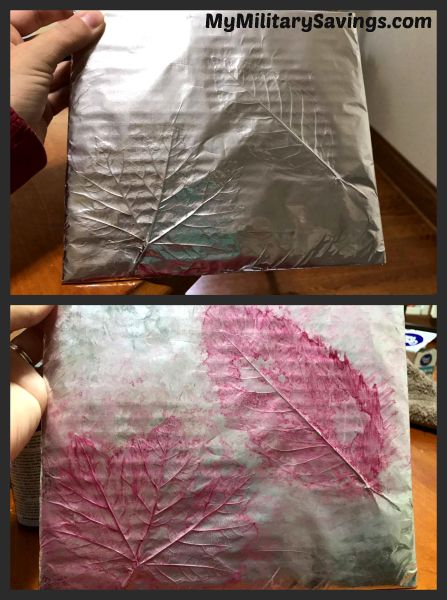 After really highlighting each leaf I added a splash of color to the rest of the board and we just smudged the paint all around. Literally.
I'm sure you could do something fancy to border this work of art but I enjoyed it just the way it was.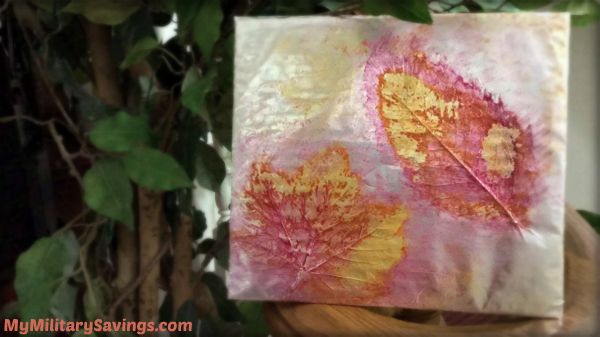 What do you think??
Reynolds® products can be used for so much more than just food!
Visit your local commissary to find a coupon for $1.50 off of one 200 sq. ft. package of Reynolds Wrap® Foil (expires 1-31-17)! You will find additional savings, too, on parchment paper, wax paper, and so much more by visiting MyMilitarySavings.com.
Happy Fall, y'all!!