Good day readers!! I cannot wait to share this book review with you! I was wanting something different, a little out of the norm. When I was offered this book to read, I was excited! I could not wait to dive in and try something new. This book had me up late reading! I could not put it down! I was struck with several of the themes, how one teapot could survive through such rough times, but then seeing the love and tenderness through the family, it was a story that drew you in and refused to let you leave. Through the nightmares and the tough times, there was always family. Family that stood together through everything, and refused to give up on one another, that draws the very fabrics of what families are.
This is a must add to your summer reading list! Neville Frankel brings life to the characters, creating their story from more than just words on a page. Get comfy and dive into a book that will keep you engaged from the very first page! Check out the review below, and let us know what you think! Happy Reading!!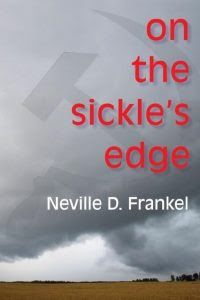 On the Sickle's Edge  by Neville D. Frankel follows the history of the Shtein family. We follow them from Latvia, to South Africa, back to Latvia and beyond. As we intertwine through the lives of the three main protagonists, Lena, Darya and Steven, the story and history of this family bind them together stronger than most. Secrets that could tear the family apart are lurking beneath the surface, but stronger still is the will to survive, persevere and overcome.
As tensions mount in the USSR, one man is desperate to do whatever he has to to keep his family safe. Having already deserted the army, and left the country, Issak Shtein is no stranger to the ups and downs that life can bring. He arrived in South Africa looking for his brother, only to find that his brother had passed away shortly before he arrived. Saving money and bringing the rest of his family to South Africa, he does his best to make a decent living and provide for his growing family. After the death of his wife in childbirth, Issak makes the fateful decision to take most of his children, leave South Africa and return to Russia. There he can find another wife, and then return to his two sons. But he cannot foretell the horrors which are fixing to be unleashed throughout the world, and the best of intentions soon turn to disappointments.
As the world erupts into war, their small village is razed to the ground, and Issak, Esther and their children are on the move. They are doing their best to stay out view of the soldiers. As they travel through the countryside, Esther and Issak are at odds as to the best way to proceed. They know they must get to Moscow as they will have the best chance to find work. By working they can save the money they need to get back to South Africa, and the two young boys that were left behind. Esther knows that they must hide the fact that they are Jewish if they wish to find good jobs, and have a chance at a better life.
But even this is not enough to keep them completely out of harms way. Having already lost one child soon after returning to Latvia, Issak is about to lose another. As they are attacked one afternoon by young men from the village they just left, Avrom who was only six years old, does his best to defend his step-mother, but in the process, he is killed. While the family mourns his loss, no one feels it more than Lena. Avrom and Lena were twins. They were brought into the world in joy and sorrow, and they were parted in the same way. As Lena grows up in Moscow, she is withdrawn and adrift. Her stepmother notices and takes her with her to the library every afternoon. There she sees a painting, one that will stay with her throughout her entire life. As she grows, she remains faithful to the Ivanov. In the shadow of this painting, she meets the man who will become her husband. As the years pass, things do not get easier, but now the fear is that one will disappear. Everyone has been affected by the sudden arrests, but when it happens to Lena she falls apart. After Vasily, she floats through her days, to the detriment of her young daughter. Klara leaves home as soon as she can and gets a job far away from where her mother is. Lena keeps herself thrown into work, and she travels quite a bit with the railway job that she has. After returning from one of her trips, she gets a message that she needs to go to the Youth Ministry. Once she arrives, she finds that her daughter and son in law were killed in an explosion at the munition plant where they worked. Lena is now responsible for her young granddaughter Darya.
As Darya grows, she follows the strict Communist party line that has been taught and pounded in their heads from childhood. As she becomes a young woman, she is noticed by Grigory Yanov. While he comes across as charming, Lena dislikes him immediately and tries to get Darya to forget him. However, its to late. Grigory has gotten to her. Darya likes the lifestyle that he can give her, but he is far from being the charmer that he portrays. He enjoys the slow torture, the mind games where one never knows exactly where they stand with him. Darya thinks that she has outsmarted him throughout the many years of their marriage, and has been questioning the lines that she is feeding to the rest of the world on her travels. She begins to listen to the dissenters, and imagine what might be. When she meets her distant cousin Steven, she dares to love him, knowing that she is putting herself and her children in terrible danger. Without knowing it, she has walked into the trap that Grigory was waiting for, and now he is ready to spring, and he knows exactly which buttons to push.
Meanwhile, Steven is reeling from the first blushes of love that he is feeling. After his first visit to Russia, he cannot get Darya out of his mind. They meet when they can in secluded places during her travels, but he wants more. He wants more from her, but she is not free to give it. He is content for a while to take what she offers.When he gets a frantic letter begging for help, he knows that he cannot just leave her to whatever fate her husband might have in store for her. So he heads off to Russia for a final confrontation that has no certain ending.
To learn more about the author you can visit him here: Neville D. Frankel