Can you believe that summer is almost over? The kiddos are going back to school and in the summertime, cookouts will slowly start to fade away. With all that being said, I decided to cheer everyone up and get one more BBQ going! I was looking for a new BBQ sauce recipe and found Simply Orange Whiskey BBQ Sauce at www.cocacolamilitary.com and so I decided to test it out before the BBQ this coming weekend. Luckily at my house, Simply Orange Juice is a staple. So I gathered all my ingredients and what came about was pretty amazing! The great taste of Simply Orange Juice blended with all the seasonings truly made for an awesome sauce! It was simple to make too. Check it out:
What You Need
 1 cup of ketchup
 2 tbsps of dijon mustard
 2 tbsps of brown sugar
2 tbsps of honey
2 tbsps of apple cider vinegar
2 tbsps of Worcestershire sauce
1 tsp of pepper
2 shots of whiskey
2 cloves of garlic, minced
1 tsp of orange zest
1/3 cup of Simply Orange
 Instructions
Mix all ingredients in a small saucepan.
Bring mixture to a boil and reduce to a simmer.
Stir occasionally and allow to simmer until the sauce is reduced by half andthickened.
Store in a glass jar and refrigerate for up to two months.
What's great about this recipe is the storability as well! A quick sauce that can be stored for up to two months. Of course with our BBQ coming up ours won't last that long. However, I did make another batch of this to use as a marinade for the chicken we will be having as well!
And right now, at your local commissary, you can grab this in-store coupon and save on some of your favorite Simply products! And for more deals, coupons, and recipes visit www.cocacolamilitary.com.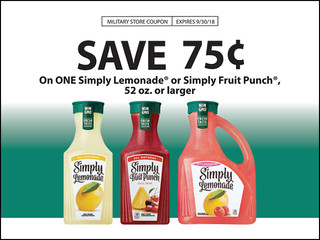 Are you a movie lover? Well, now you can drink in movie perks with Coke® products and Cinemark theaters! Check out www.cocacolamilitary.com for your chance to enter!