BOOST® Banana Pudding Trifle
Let's be honest for a second, even those on a strict diet love to indulge in a delicious dessert! We all have our weakness, and in this house we can all agree that banana pudding reigns supreme! However, my partner and I have been doing really good on our diet and didn't want to ruin it. So I looked for a recipe that was both tasty and healthy. Then, I came across BOOST® and they have a ton of delicious recipes that fit right into what we are looking for.
BOOST® Nutritional Drink contains all the vitamins, minerals, and protein that you need to not only start your morning, but to get you through the day. BOOST® comes in a High Protein drink, Calorie Smart drink, Glucose Control drink, and the Original version. So stop wondering, and give BOOST® a try!
Love BOOST®? Then you have to check out this amazing recipe! Made with just a couple of ingredients and BOOST® Vanilla Drink, this Banana Pudding Trifle is sure to be a hit for an party or occasion!
BOOST® Banana Pudding Trifle
What You Need
1 – 3.4 oz. box instant banana pudding mix
1 – 8 fl. oz. bottle BOOST® Vanilla Drink
2 bananas (sliced)
2 cups non-dairy whipped topping
25-30 vanilla wafers
Instructions
Combine pudding mix and BOOST® Vanilla in a mixing bowl. Beat with wire whip or electric mixer for 1 minute; refrigerate for 1 hour. (Pudding will be thick but not firm.)
Fold 1 cup non-dairy whipped topping into pudding.
Layer vanilla wafers along the bottom and up the sides of a 1 ½ quart glass serving bowl. Arrange half the sliced bananas over the wafers and top with pudding.
Arrange remaining bananas on top of pudding and garnish with dollops of remaining whipped topping. Chill until ready to serve.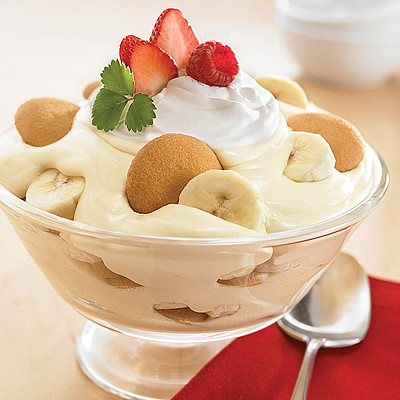 And right now at your local commissary check out this amazingly HOT DEAL on BOOST® High Protein Nutritional Drink. But, it only last through September 30, 2017 so hurry in and stock up today! And for more recipes, coupons, and savings visit: www.nestlemilitary.com.