Hello again! Today, I have a super easy Crockpot recipe for your Easter ham! One less thing to worry about this weekend! Did you know you could put a ham in the Crockpot? I didn't so I'm SUPER excited this worked out so well! Now, I can set it and forget it while making my side dishes for the family.
Start with the glaze. In a small saucepan, I added 1 cup of brown sugar, 3/4 cup of honey, 1/2 cup of dijon mustard. I found a can of pineapple tidbits in the pantry and put those in there too. YUM! Plus 3/4 of water. Bring to a boil and then simmer until slightly thickened.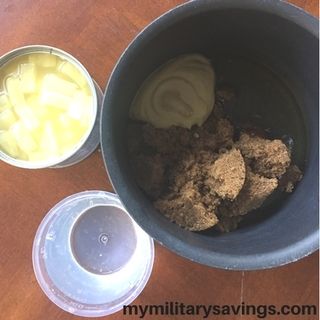 I bought a 9 lb hickory smoked ham (fully cooked) and it BARELY fit in my 6 quart Crockpot. HA! So, when choosing your ham, be mindful of where it needs to fit. Also, look for spiral sliced. I didn't and while it was no big deal to slice it myself, it definitely would have saved me a step. Make it easy on yourself!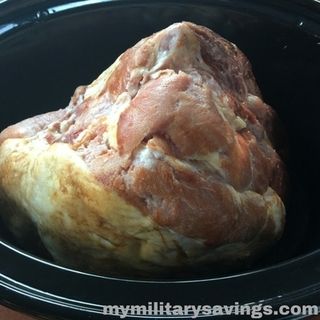 Slowly add the glaze on top of your ham. You're going to cook on low for at least 6 hours. It definitely won't hurt the ham to go all day. I left my Crockpot on warm once it was ready (internal temperature of 160) and it was fall apart tasty. If you remember, you can certainly baste your ham with the glaze as often as you want. I flipped my ham over a couple times throughout the day. The house smelled AMAZING.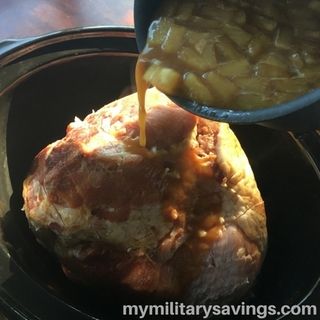 I cooked mine on low for about 6 hours. It sliced so easily! Next time I believe I'll add the glaze back into a saucepan and simmer it down until it's nice and thick and pour it over the sliced ham to serve.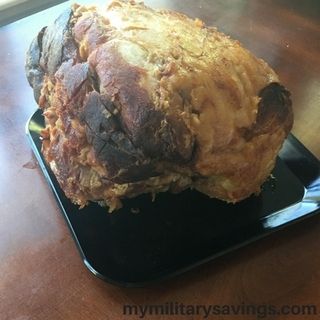 Slice and serve with your favorite side dishes! We'll have a fresh green salad and scalloped potatoes. This is only about half the ham.. It's huge! It'll easily serve 8-10 people.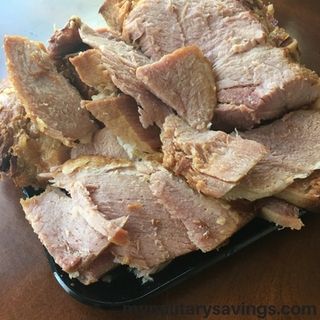 Happy Easter everyone!