Solve the Mystery with "The Maze Of Bones"
Hey kids! This month we are having an adventure with Omri and his friend Patrick with the magic cupboard again. The Secret of The Indian has been a really fun read so far! With March fixing to be over, we are getting ready to announce the new book that we are going to be reading.
Did you have good weather for your spring breaks? Ours was cold, but we still managed to have fun! April is going to bring a brand new adventure and one that you are going to LOVE! Rick Riordan has been a favorite on here, and we are going to dive into another one of his books. I am so excited to read it! We are going to be reading "The Maze Of Bones: The 39 Clues." When you visit your local library next, make sure that you get your copy!
Excerpt from Goodreads.com:
Minutes before she died Grace Cahill changed her will, leaving her descendants an impossible decision: You have a choice – one million dollars or a clue.
Grace is the last matriarch of the Cahills, the world's most powerful family. Everyone from Napoleon to Houdini is related to the Cahills, yet the source of the family power is lost. 39 clues hidden around the world will reveal the family's secret, but no one has been able to assemble them. Now the clues race is on, and young Amy and Dan must decide what's important: hunting clues or uncovering what REALLY happened to their parents.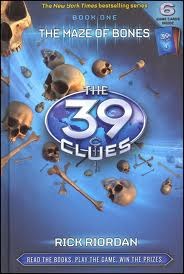 Now doesn't this sound exciting? Be sure to get your copy, and then join us for the Facebook Live, (with your parent's permission) to discuss the book! We look forward to hearing your thoughts! Have your parents leave a comment from you telling us what you thought about the book!
Happy Reading!