Are you planning for your holiday party? New Years is almost here, and its time to plan the tasty finger foods that you are going to have set out for everyone to pick on while you have fun! We have been working on our menu for a few weeks, and I am super excited for our friends to get here and see the spread that will be laid out. We do a potluck style get together, so it helps to alleviate the burden of providing all the food on one person. But of course, we all want to provide that really awesome dish that everyone is going to rave about.
When we were at a friends house for a get together before Christmas, she had these sweet bacon wrapped sausages. I was hooked (and I am pretty sure that I ate most of that plate by myself). Since my husband was out of town, he missed the party. But I knew that he was going to love them, so I had to make them at home. I was right! He was as hooked as I was! This will be a perfect addition to our finger food theme this year! I am looking forward to having a huge mound of these available for our guests to dig into. Super easy to make, and only four ingredients – it is not super expensive either! Pair this with some Chinet plates, and the clean up is a breeze too!
What you will need:
OSCAR MAYER Bacon
Beef Lit'l Smokies
Maple Syrup
Brown Sugar
Toothpicks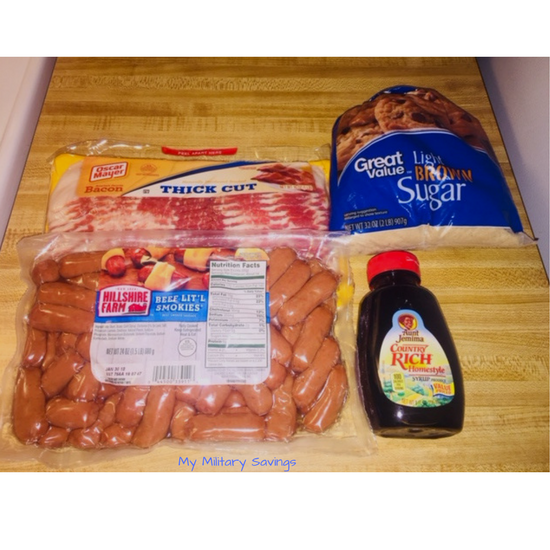 Directions:
 Warm your over to 350
Cut bacon into thirds
Wrap Lit'l smokies in the bacon and secure with a toothpick
Drizzle maple syrup over the Lit'l smokies arranged on your cookie sheet
Crumble brown sugar over the top of the smokies, you can do this to your taste ( I used quite a bit of syrup and brown sugar)
Bake for about ten minutes, and then turn over so they can cook both sides. Cook until bacon is done to your liking
Arrange on your plate and serve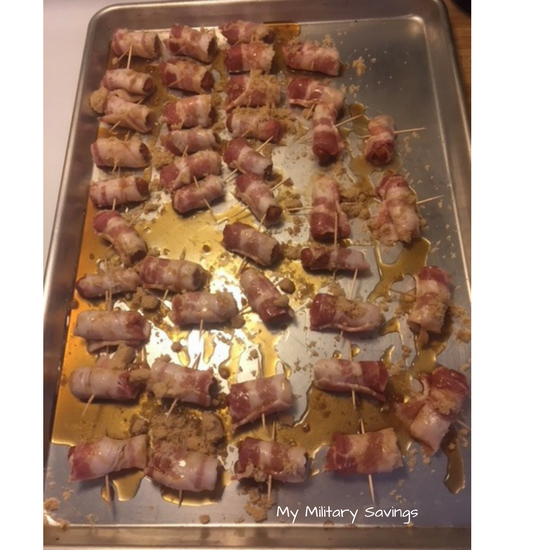 Super easy and sooo yum!! These will not last long, so adjust your recipes accordingly! I only did a small one for this go around, but come this weekend, I will be making about four times this amount!!