This week's crockpot blog is another SUPER easy and really delicious recipe. It even earned two thumbs up from both my boys (so FOUR thumbs up technically!) We love Greek food and have been missing our Sunday spot since moving away from San Diego. I decided to replicate some of our favorite flavors while keeping it super simple because that's just how I roll. 😉
Into the crockpot:
2- 2 1/2 pounds of frozen chicken breasts, boneless and skinless. If your chicken is thawed, cut your cook time by 2-4 hours.
1-2 TB of Greek seasoning. I bought a container specifically for this recipe and I'm kicking myself for not buying it sooner! Even my 10 year old told me we could put this seasoning on everything and it'd be yummy. If you want to use what you have, greek seasoning is a mixture of lemon, pepper, oregano, salt, garlic, basil, parsley, thyme, and dill. Use them all or just what you like!
2 TB of extra virgin olive oil
The juice of 2 lemons. I had jarred lemon juice so I used about 6 TB. If I had fresh lemons, I would have thrown some zest in there too!
Cook on low for 6-8 hours. If your chicken is thawed, it should only take 4-6. Once it's done, it'll shred easily with two forks. Leave it in slow cooker and let it soak up all those yummy lemony juices!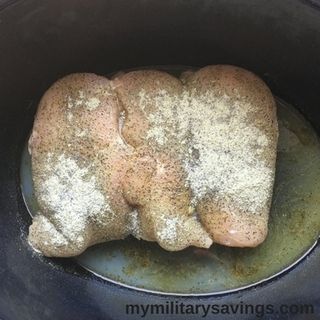 My boys LOVE tzatziki! I was honestly just going to throw this shredded chicken over some rice, but whipped up and quick and simple tzatziki using sour cream. Here's that recipe if you want to try it. It really brought the whole dish together!
Sour Cream Tzatziki
1 cup sour cream
1 cup diced cucumber. You can grate the cucumber as well, but I'm lazy 😉
1 tsp dill, fresh or dried
2 tsp minced garlic
2-3 tsp lemon juice
lots of yummy salt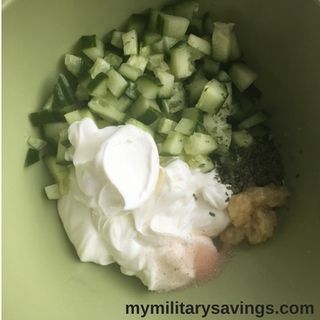 The kids ate their chicken and tzatkiki with rice and LOVED it. The only thing that would have made it better is if we had some pita bread. I am trying to cut some carbs out of my life so I had mine with cauliflower rice. You guys! Cauli rice is so delicious! They even sell frozen riced cauliflower at the grocery store now. I steamed mine in the bag (SO EASY!) and mixed in some diced cherry tomatoes and some chopped greek olives. YUM.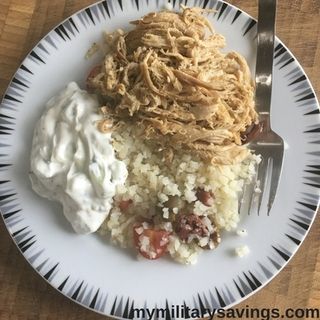 This easy slow cooker recipe is definitely going in the meal rotation. It's so easy and flavorful. Let me know in the comments below how you like it!